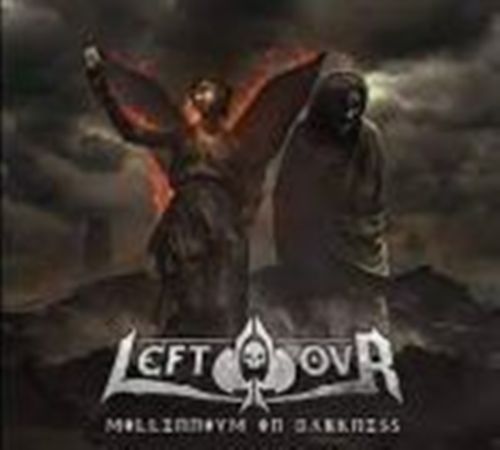 LEFT-ÖVR
Titel: MILLENIUM IN DARKNESS
Wer hier ähnlich wie ich aufgrund des Ö's  im Bandnamen auf irgendwelche Motörhead Adaptionen getippt hat, dem sei hier schon einmal gesagt, dass dem nicht so ist.
LEFT-ÖVR, aus dem südamerikanischen Aussengebiet der United States of A namens Puerto Rico stammend, zelebrieren hier ihre eigene Art von Groove Metal, beziehungsweise Southern Groove Metal a'la Down oder Texas Hippie Coalition.
Das ist nicht unbedingt Massenkompatibel und bei weitem auch nicht mein favorisierter Musikstil, dennoch muss ich LEFT-ÖVR attestieren, dass sie im Rahmen dieser Gegebenheiten ihre Sache gut machen.
Und bei Tracks wie dem nach melodischen Beginn melancholisch groovenden 'Turning The Pages' oder dem lässigen Country Groover 'Gator Season' kann auch ich nur anerkennend mit wippen. Die eher gebrüllten Vocals passen hier auch gut zur Mucke und runden die vorhandene Grundaggressivität der Songs ab.
Wer sich von oben genannten, stilistisch ähnlichen Bands angesprochen fühlt, sollte hier mal rein schnuppern.
Ludwig Lücker vergibt 6,5 von 10 Punkten