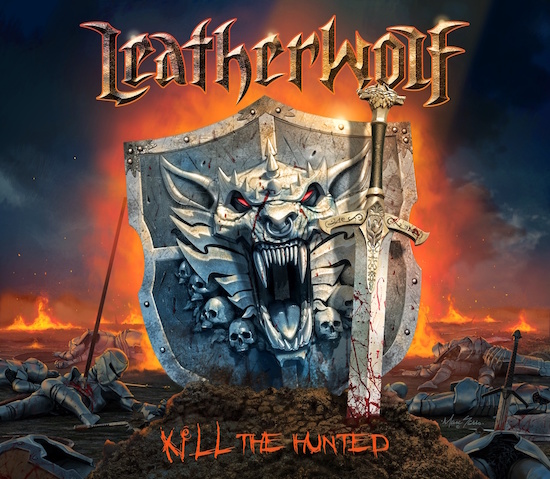 LEATHERWOLF
Titel: KILL THE HUNTED
Spieldauer: 50 Minuten
VÖ: 11. November 2022
Nach der abermaligen Trennung von Frontmann Michael Olivieri durfte man gespannt sein, wie LEATHERWOLF mit neuem Sänger klingen würden. Das letzte Mal als sich die Wege von Olivieri und seinen Mitstreitern trennten, kam dabei das recht durchwachsene "World Asylum"-Album heraus, welches später nicht umsonst als "New World Asylum" neu aufgenommen wurde und zwar mit Michael O. am Mikro.
Nun denn, wir versuchen möglichst unvoreingenommen an "Kill The Hunted" heranzugehen und konstatieren dem schmissigen Opener 'Hit The Dirt' schonmal reichlich Chuzpe. Der neue Sänger Keith Adamiak verfügt über eine ordentliche Rockröhre und schreit nicht alles nieder, so wie Wade Black auf "World Asylum". Im Gegenteil, bei 'Only The Wicked' kommt zum Beispiel sogar ein wenig "Street Ready"-Feeling auf.
Zwar kommt "Kill The Hunted" selbstredend nicht an dieses Meisterwerk oder dessen nicht minder genialen Vorgänger heran, aber Anhänger der Frühphase von LEATHERWOLF dürften an dem neuen Album sicher ihre Freude haben. Zwar ist aus dieser Zeit heuer nur noch Drummer Dean Roberts an Bord und von der Triple-Axe-Attack sind nur noch zwei Gitarren übrig, aber der typische LEATHERWOLF-Sound, mit seinen fesselnden Gitarrenharmonien ('The Henchman'!), ist durchaus noch erkennbar.
Insgesamt also ein absolut hörenswertes Album, welches allerdings nicht an alte Glanztaten des Lederwolfs heranreicht. Aber wäre hätte auch damit gerechnet…
Alex Fähnrich vergibt 8 von 10 Punkten