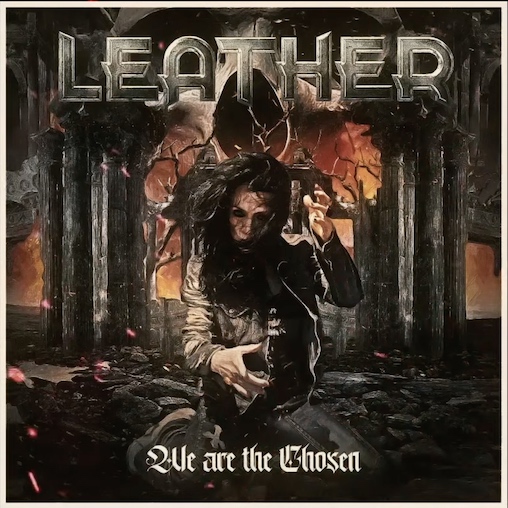 LEATHER
Titel: WE ARE THE CHOSEN
Spieldauer: 47:30 Minuten
VÖ: 25. November 2022
Mit "We Are The Chosen" präsentiert die charismatische, lebensbejahende Metal-Sängerin LEATHER (Leone) ihre ersten Solosongs seit der 2018er Veröffentlichung "Leather II".  Bekannt wurde die Rockröhre bereits in den 80ern als Frontfrau von Chastain, der Band des Ausnahmegitarristen David T. Chastain.
Darüber hinaus veröffentlichte sie Scheiben unter anderem mit Malibu Barbi, Sledge/Leather und als Solokünstlerin. Die neue Scheibe präsentiert zehn Metal-Hymnen voller Dynamik, Spielfreude und Leidenschaft und die mittlerweile 63-Jährige in absoluter stimmlicher Bestform.
Vom packenden Opener `We Take Back Control´ bis zum programmatischen Finale´ The Glory In The End´ liefern die Altmeisterin und ihre junge, hungrige Kapelle eine atmosphärisch dichte und dank der Protagonistin stimmgewaltige und positive stimmende Performance ab.
Stücke wie der hymnische Titelsong und die dem großen Vorbild Ronnie James Dio gewidmete Halb-Ballade `Hallowed Ground´ überraschen mit orchestraler Synthiepower und viel Emotionalität.
Aber auch OS Fans und Freunde puren (US) Metals kommen mit Songs wie dem ausgefallenen Brecher `Off With Your Head´ und dem schnellen, kompromisslosen `Dark Days´ auf ihre Kosten.
Fazit: für die Künstlerin deutlich hörbar eine leidenschaftliche Herzensangelegenheit, für uns ein ungeheuer unterhaltsamer, kraftvoller und qualitativ hochkarätiger Silberling!
Michael Gaspar vergibt 8 von 10 Punkten