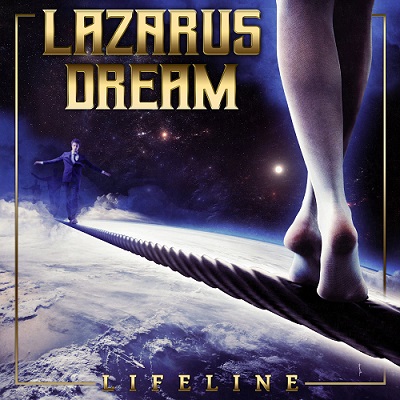 LAZARUS DREAM
Titel: LIFELINE
Spieldauer: 73:55 Minuten
VÖ: 17. Juni 2022
Das deutsche Melodic Hardrock Duo LAZARUS DREAM, bestehend aus Sänger Carsten "Lizard" Schulz (Domain, Evidence One, Devoid) und Gitarrist Markus Pfeffer (Barnabas Sky, Winterland) präsentiert sein Zweitwerk "Lifeline".
Dieses enthält zwölf brandneue Stücke melodischen Hardrocks mit druckvoll groovenden Riffs, fulminanten Chören und größtenteils mitreißenden Melodien. Das belegt direkt der packende Auftakt mit dem sechsminütigen Epos `Dead End Symphony´, zudem veredelt durch vertrackte Hammond-, Moog- und Synthie-Arrangements von Gast Derek Sherinian (Dream Theater, Black Country Communion, Sons Of Apollo).
Pfeffer macht zudem seine musikalischen Ursprünge und Einflüsse (Dokken, Winger, Tyketto, Queensryche) deutlich, während Schulz seine unverkennbare Stimme und üppige Chöre beisteuert. Charakteristisch für den Bandsound sind darüber hinaus die stampfenden Bass-Lines bei eher gedrosselter Geschwindigkeit und die ausgetüftelten Synth-Sounds des Multiinstrumentalisten.
Einen weiteren guten stilistischen Einblick bieten die eingängige Vorabauskopplung `Mind Like A Windmill´ und das packende `Your Voice Inside My Head´. Auch etwas härtere, beinahe düstere Kompositionen wie `Crack The Hourglass´ und das fantastische ´Modern Lies´ bieten hohe Qualität und gute Unterhaltung, lösen aber nicht unmittelbar Begeisterungsstürme aus.
Für den ebenfalls gelungenen Uptempo-Track `Overdose Of Paradise´ steuert Schulz´ Bandkollege und Keyboarder Jorris Guilbaud (Heart Line, Devoid) Synths und Hammondsounds bei. Die CD-Ausgabe weist zudem den Song `Surrounded By Strangers´ sowie ein großartiges Cover des 80er-Jahre-Ohrwurms `I Engineer´ (Animotion) als Bonustracks auf. Der digitale Release enthält als Bonus den (nicht vorliegenden) Track "Once Upon A Time".
Unter dem Strich eine sehr gute, vor allem handwerklich nahezu perfekte Scheibe mit einigen Glanzpunkten, die – und das ist der einzige kleine Wermutstropfen – bei der Vielzahl an ähnlich gelagerten Stücken über die üppige Gesamtspielzeit vielleicht um einige Minuten bzw. ein, zwei Tracks zu lang ausgefallen ist.
Michael Gaspar vergibt 7,5 von 10 Punkten