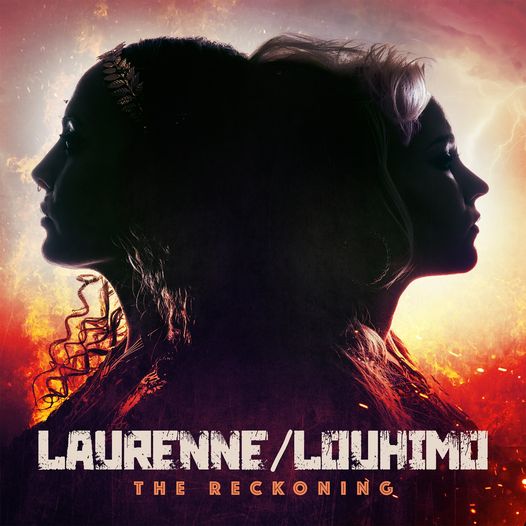 LAURENNE/LOUHIMO
Titel: THE RECKONING
Spieldauer: 42:54 Minuten
Bei "The Reckoning" handelt es sich nicht nur um die Kollaboration zweier Powerfrauen und den Vokalistinnen von zwei recht bekannten finnischen Metal-Bands. Noora Louhimo (Battle Beast) und Netta Laurenne (Smackbound) stammen sogar beide aus Tampere, der drittgrößten Stadt im Südwesten des Landes. Laurenne hatte die Idee zur Zusammenarbeit und schrieb gemeinsam mit ihrem Ehemann, Songwriter, Produzent und Gitarrist Nino (Hevisaurus, Thunderstone), die zehn Songs für den Silberling. Das Lineup wird komplettiert durch Schlagzeuger Sampo Haapaniemi.
In der Schnittmenge von melodischem Metal und Heavy Rock liefert der Vierer eingängige Stücke, die vor Melodien, Energie und Spielfreude nur so strotzen. Doch auch Dynamik und Abwechslung kommen bei den dichten Arrangements und der zeitgemäßen Produktion nicht zu kurz. Die beiden kraftvollen Stimmen harmonieren sehr gut und ergänzen sich, wo es nötig und möglich ist. Die eher tiefe, rauchige Röhre (Louhimo) setzt aber auch den ein oder anderen Kontrapunkt zur eher klaren, rockigen Stimme der Kollegin.
Dabei kommen Ohrwürmer wie Vorabsingle und Titelsong 'The Reckoning' und das packende 'Striking Like A Thunder', aber auch schicke Heavy Rocker wie das wilde 'Bitch Fire' heraus. Mal geht es etwas heavier und mit härteren Riffs zu wie im Opener 'Time To Kill The Night' und im grandiosen 'Tongue Of Dirt', mal fast schon balladesk, wie das emotionale 'Hurrican Love' eindrucksvoll zeigt. Herausragend sind außerdem das atmosphärisch-beschwörende 'Viper's Kiss' und der über siebenminütige, epische Abschluss 'Dancers Of Truth'.
Ein beinahe durchgängig beeindruckendes, abwechslungsreiches Album mit viel Energie und Dynamik, genügend Eingängigkeit und Heavieness und vor allem vielen richtig guten Songs!
Michael Gaspar vergibt 8 von 10 Punkten