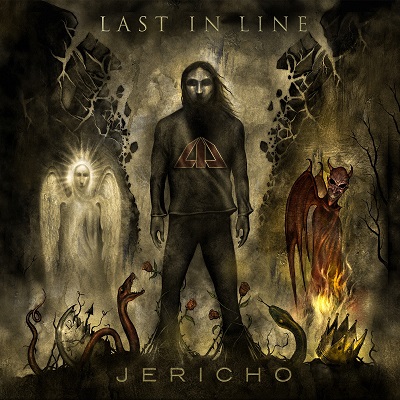 LAST IN LINE
Titel: JERICHO
Spieldauer: 55:17 Minuten
VÖ: 31. März 2023
Bereits vor zehn Jahren formierte sich die Band LAST IN LINE, als sich die Originalmitglieder der DIO Band Vivian Campbell (Gitarre), Vinny Appice (Drums) und Bassist Jimmy Bain, die als Co-Songwriter an den Alben "Holy Diver", "Last In Line" und "Sacred Heart" beteiligt waren, mit Sänger Andrew Freeman zusammen taten.
Der Debüt-Silberling "Heavy Crown" erschien im Februar 2016 und im folgenden Jahr übernahm Phil Soussan (ex-Ozzy Osbourne) den Platz des tragischerweise verstorbenen Jimmy Bain. Dem Folgealbum "II" (2019) lässt das Quartett nun das Drittwerk "Jericho" folgen.
Die US-amerikanische Supergroup spielt im besten Sinne klassisch-traditionellen, energiegeladenen und rifflastigen Hardrock. Hier sind musikalische Experten und gewiefte Fahrensmänner am Werk, die viel Herz, Spielfreude und Energie investieren und transportieren.
Majestätische Riffs, gute Melodien, packende Soli, einige Gruppenshouts und eine herausragende Gesangsleistung führen zu haufenweise starken, frischen Songs, einem glatten Dutzend, um genau zu sein.
Ein Großteil der Stücke wurden live eingespielt, sechs Tracks entstanden bereits vor dem ersten Lockdown, die sechs übrigen konnten erst Anfang 2022 aufgenommen werden. Der Stimmigkeit und Homogenität von "Jericho" tut dies allerdings keinerlei Abbruch.
Die Platte ist abwechslungsreich, klingt wie aus einem Guss und ist ein einziger, kompletter Anspieltipp, aus dem vielleicht die Vorabauskopplungen `Ghost Town` und `Do The Work´, das grandiose `Burning Bridges´ sowie das abschließende `House Party At The End Of The World´ noch ein wenig herausragen.
Michael Gaspar vergibt 8,5 von 10 Punkten