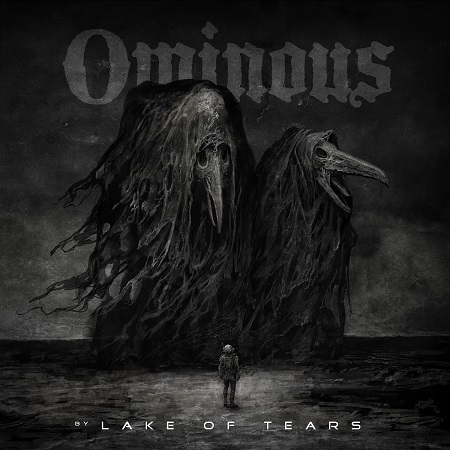 LAKE OF TEARS
Titel: OMINOUS
Spieldauer: 44:26 Minuten
"Comeback oder weg?" – Das ist nicht nur der Titel einer mehr oder weniger amüsanten Unterhaltungssendung eines großen, deutschen Privatsenders, in der es um die heutige Tauglichkeit vermeintlich veralteter Alltagsgegenstände geht. Es war auch mein erster Gedanke, als ich hörte, dass die 1994 gegründeten LAKE OF TEARS nach langer Schaffenspause wieder zurück seien. Das vom schwedischen Goth/Doom-Mastermind Daniel Brennare alleine eingespielte und selbst produzierte "Ominous" ist das erste Lebenszeichen der "Band" seit dem 2014er Livealbum "By the black sea". Zudem handelt es sich um den ersten Full-Length-Output seit zehn Jahren und das nunmehr neunte Studioalbum.
Der Promotext spricht von dem "perfekten Soundtrack für die kurzen, grauen Tage und langen, kalten, dunkle Nächte" und greift ganz oben ins Regal, wenn er das Album "als das uneheliche Kind, gezeugt während einer kurzen Liaison zwischen David Bowies "Space oddity", den Sisters of mercy und Pink Floyd" bezeichnet. Dennoch beschreibt dies perfekt sowohl die musikalische Richtung, als auch die allgegenwärtige, dunkle Stimmung der neun Songs in Brennare´s melancholisch-kraftvollem Klangkosmos. Man gebe sich nur das tiefschwarze 'In wait and in worries', den düster-experimentellen Doppelpack 'Ominous one' und 'Ominous two' sowie den hypnotisch, sich steigernden Drum/Streicher-Part am Ende von 'The end of this world'. Mein persönliches Highlight allerdings ist der etwas schnellere abgespaced-elektronische Opener 'At the destination'. Grundsätzlich empfiehlt es sich ohnehin, das Opus in voller Länge und unter dem Kopfhörer zu genießen.
Ich fühle mich zweieinhalb Dekaden zurückversetzt, sitze wieder ganz in Schwarz gekleidet in meinem Kinderzimmer und im CD-Player rotieren The Sisters of mercy, Cemetary, Tiamat und My dying bride. Grandioses Comeback einer großartigen Band mit einer tollen Platte! Willkommen zurück!
Michael Gaspar vergibt 9 von 10 Punkten