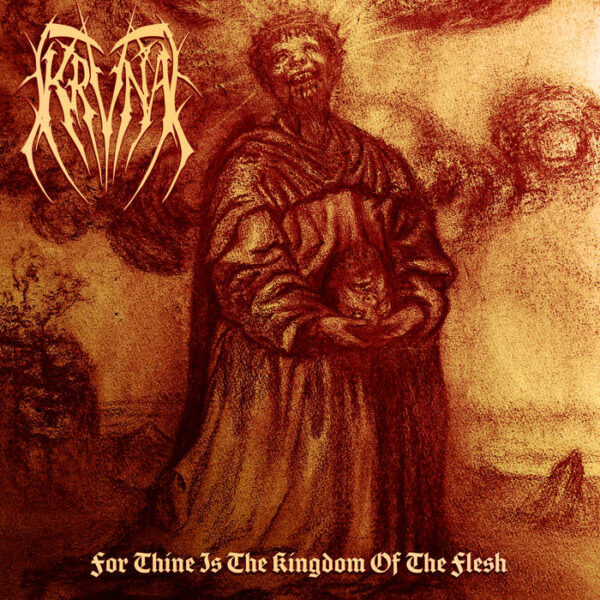 KRVNA
Titel: FOR THINE IS THE KINGDOM OF THE FLESH
Label: ANCIENT DEAD PRODUCTIONS
Spieldauer: 49:42 Minuten
VÖ: 12. Dezember 2022
Ein kurzes Intro mit einem Choral geht über in ein melodisches und böses Eröffnungsriff der australischen Black Metal Band KRVNA. Die Band existiert laut den Metal Archives erst seit letztem Jahr und veröffentlicht mit "For Thine ist the Kingdom of the Flesh" bereits ihre zweite Langrille. Das Debütalbum Sempinfernus kam Ende letzten Jahres heraus und nur ein Jahr später kommt schon der Nachfolger.
Zugegebenermaßen war der erste und teilweise auch der zweite Durchlauf noch relativ ernüchternd. Allerdings konnte die Tracks mit jedem neuen Durchlauf immer mehr an Spirit und Musikalität versprühen, so dass mich die Platte doch überzeugen konnte. Der Titeltrack als Auftakt bleibt allerdings sperrig bis zuletzt und ist für mich der schwächste Song der Platte.
KVRNA verstehen es exzellent Melodiösität, Atmosphäre und Raserei miteinander zu verbinden. Pointiert und knüppelnd geht das Ein-Mann-Projekt hier vor. Ausdruck dafür ist zum Beispiel der Song 'The Flaming Hordes of Barsarab'. Bedrohliches Riffing, furioses Blast-Gehacke und eine grollende Stimme. KRVNA spielen hier auf teilweise hohen Niveau, die Stimmung der Scheibe ist jederzeit böse und verschworen. Da der Hauptprotagonist hinter KRVNA wohl Ahnen aus Transsilvanien hat, ist der Vampiric-Zusatz durchaus gerechtfertigt.
Gutes Album, wenn auch vielleicht noch mehr Abwechslung mit in die Kompositionen einfließen könnten. Die Scheibe macht dennoch Spaß, auch wenn sie komplett spaßbefreit ist. Bin gespannt wie sich KRVNA noch entwickeln, da erkenne ich momentan wirklich ein enormes Potenzial für die Zukunft.
Ingo Holzhäuser vergibt 8 von 10 Punkten