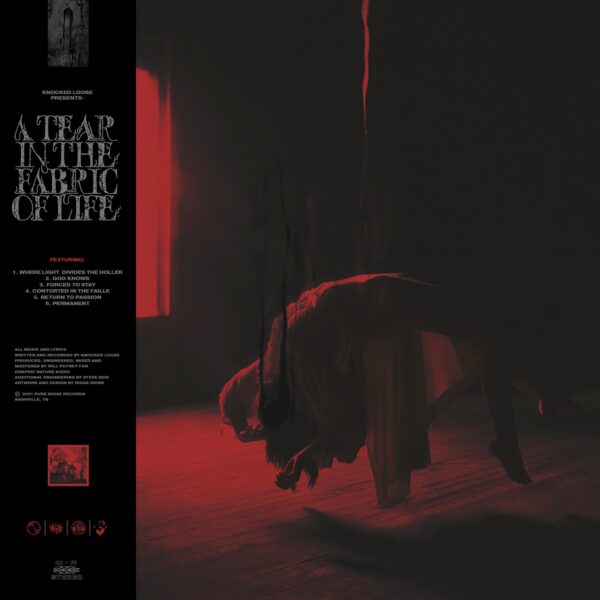 KNOCKED LOOSE
Titel: A TEAR IN THE FABRIC OF LIFE
Spieldauer: 21:53 Minuten
Mit dem Album "A different Shade of blue" haben sich KNOCKED LOOSE vor zwei Jahren einen echten Namen gemacht: grooviger und brettharter metallischer Hardcore gaben sie damals zum Besten. Und in dieser Tradition steht auch die neue 22-minütige EP "A tear in the fabric of life".
Schon der Opener 'Where light divides the holler' macht nach kurzem Intro klar wohin die Reise geht: mächtige und oftmals dystopische Gitarrenblöcke. Zudem ist das hysterische Gekeife von Shouter Bryan Garris stilprägend. Monolithisch, düster und böse möchte ich den Sound von KNOCKED LOOSE bezeichnen. Hier gibt es wenig beschönigendes, sondern die Tracks leben unbarmherziger Härte. Zwar sind die Songs meist im Midtempo gehalten, aber gerne gibt es auch Ausritte ins Uptempo wie bei 'God Knows'. Das ganze hat mächtig Schmackes in der Hüfte und dürfte den Karate-Tänzern bei den Liveshows wieder genügend Tanzfutter bieten. Aber auch der normale Moshpit Jünger sollte hier den ein oder anderen Schweißtropfen im Pit zurücklassen und zermartert aus der Konzerthalle kriechen.
Eine kurzweilige und knallharte EP der Jungs aus Kentucky. Von KNOCKED LOOSE darf man noch einiges erwarten. Diese EP bestätigt das hohe Qualitätslevel, das man von der letzten Platte kennt. Ganz stark!
Ingo Holzhäuser vergibt 9 von 10 Punkten