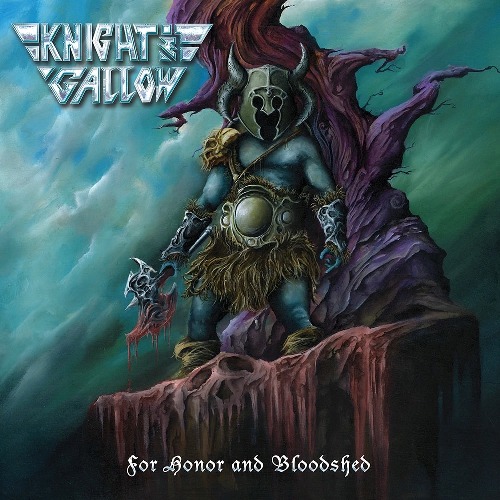 KNIGHT AND GALLOW
Titel: FOR HONOR AND BLOODSHED
Spieldauer: 41:12 Minuten
VÖ: 17. März 2022
KNIGHT AND GALLOW aus Sacramento spielen trotz ihrer örtlichen Herkunft keinen Thrash, sondern sind mit ihrem Debütwerk "For Honor And Bloodshed" angetreten, um frischen Wind in die Epic Metal Szene zu bringen.
2019 erst gegründet kann ich den Jungs schon mal attestieren, dass ihr Werk musikalisch nicht zu bemängeln ist. Die großen Vorbilder des Fünfers werden nach den ersten Takten schnell klar. Manilla Road und Brocas Helm fallen mir da relativ schnell in bezug auf die alte Garde ein, aber auch Bands wie Eternal Champion oder Gatekeeper aus jüngeren Zeiten, wobei Jeff Black von Gatekeeper– neben Bart Gabriel – auch an Produktion und Mix beteiligt war.
Bei den Vorbildern ist natürlich auch nicht unbedingt easy listening angesagt, sondern hier regiert leicht kauziger Epic Metal.
Tracks wie das treibende, aber doch hymnische und über sieben Minuten nie langweilende 'Men Of The West', das von melodischen Riffing geprägte 'Soul Of CInder', der treibende, stampfende Rocker 'Lord Of The Sword', das pumpende aber dennoch hymnische 'Blood Of Wolves' und das abschließende abwechslungsreiche 'Black Swordsman' sind richtig gelungene Genre Highlights.
Zwar ist noch nicht alles Gold was glänzt und an die Genre Vorreiter kommt man noch nicht ganz heran; für ein Debütalbum aber, kann ich hier nur den Hut ziehen. Epic Metal Fans können hier ganz beruhigt zu greifen.
Ludwig Lücker vergibt 8,5 von 10 Punkten