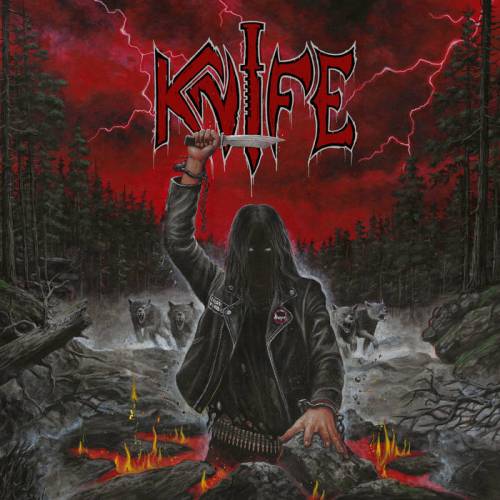 Label: DYING VICTIMS PRODUCTION
Spieldauer: 36:38 Minuten
Ihr steht auf ungehobelten, rauen Speed Metal? Ihr verehrt eine klassische Black Metal Kapelle wie Venom? Bei den neueren Bands seid ihr uneingeschränkte Fans von Midnight?
Nun denn, wenn ihr eine Frage mit Ja beantwortet habt, dann solltet ihr euch KNIFE anhören….und wenn ihr alle drei Fragen mit Ja beantwortet habt MÜSST ihr euch KNIFE anhören.
Die deutsche Kapelle ist ein räudiger Bastard von Black Metal, Speed Metal und Punk und mach daraus auch nicht das geringste Geheimnis. Der aggressive raue Sound passt bestens zur Mucke und auch das aggressive Shouting verstärkt den Gesamteindruck.
Wenn man böswillig ist, kann man natürlich behaupten, es wäre eine Midnight Kopie, was auch durch das Artwork noch einmal unterstützt wird, aber KNIFE haben einfach zu starke Songs, um sie nicht zu mögen.
Tracks wie der schnelle Banger 'Inside The Electric Church', das im pumpenden Mid Tempo daher kommende 'White Witch Black Death' mit seinen hymnischen Gang Shouts, das im angezogenen Tempo ballernde 'K.N.I.F.E.', das knackige 'I'm The Priest', das hyper-schnelle 'Demon Wind' und das pumpende '1989' sind wie gemacht für Mosh Pit Ausflüge.
Wer sich mal ordentlich die Rübe abschrauben lassen möchte sollte hier zu greifen; gibt es übrigens auch als Vinyl.
Ludwig Lücker vergibt 8,5 von 10 Punkten