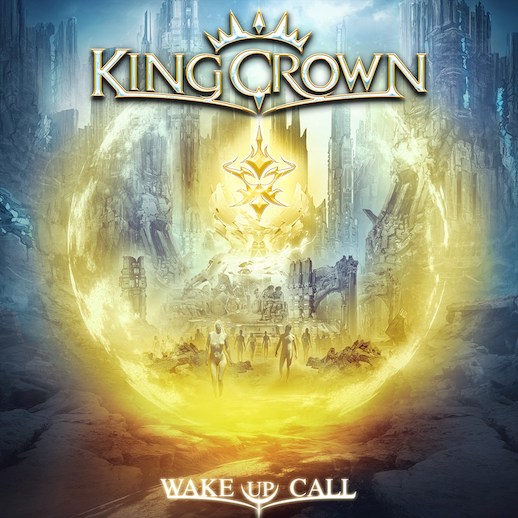 KINGCROWN
Titel: WAKE UP CALL
Label: ROCK OF ANGELS RECORDS
Spieldauer: 43:43 Minuten
VÖ: 25. März 2022
Die französischen Melodic Power Metaller KINGCROWN präsentieren ihren Zweitling "Wake Up Call". Genauer gesagt das zweite Album unter ihrem neuen Namen nach "A Perfect World" (2019). Hatten sie doch bereits ein Album mit dem Titel "Resilience" unter dem bisherigen Banner Öblivïon am Start.
Leiser akustischer Anfang und Ende, pumpende Riffs, packende Vocals, guter Refrain, epische Chöre und ein mitreißendes Solo – der Opener und Titelsong hat eigentlich alles, was ein gelungener Metalsong braucht und haut den Hörer dennoch nicht vollends aus den Socken.
Das folgende `The End Of The World` überzeugt da mehr, glänzt durch eine härtere, US Power Metal Gangart und verfügt darüber hinaus – ähnlich wie das folgende `Story Of Mankind` – über einen tollen (Mitsing-)Chorus.
Den folgenden fehlt es dann jedoch an Tiefe und Abwechslung und die hohen, ein wenig "weinerlichen" Vocals von Songs wie `Lost Foreigner` und `The Awakening` taugen nicht zum uneingeschränkten Hörgenuss.
Neben einem grandiosen Ohrwurm wie `To The Sky And Back` und einer flotten Hymne wie `A New Dawn`, die beide nicht umsonst vorab ausgekoppelt wurden, stehen leider Stücke wie die langweilige Piano-Ballade `Gone So Long` und das etwas belanglos-gefällige `City Lights`, während das abschließende, majestätisch-kraftvolle `Fire Burns Again` allen Manowar-Jüngern zurecht die Freudentränen in die Augen treiben dürfte.
Ergibt unter dem Strich ein eher durchwachsenes, aber auch nicht schlechtes Ergebnis, das nicht durchgehend überzeugen kann, da der Dreher mit einigen Höhepunkten glänzt, aber auch ein paar Durchhänger verkraften muss.
Michael Gaspar vergibt 7 von 10 Punkten