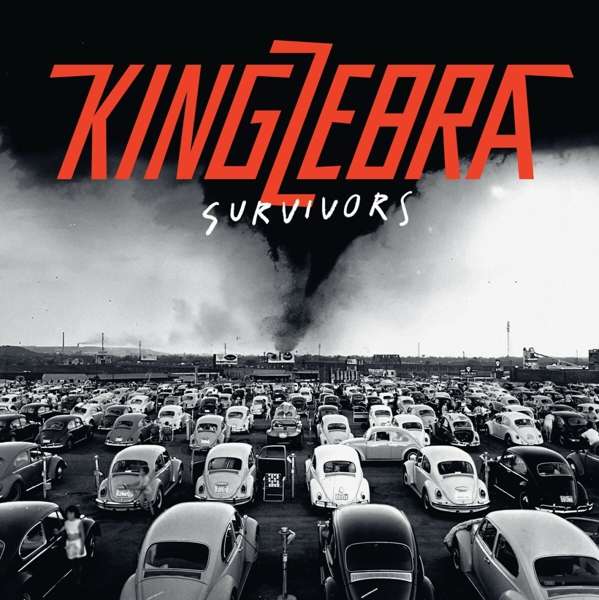 KING ZEBRA
Titel: SURVIVOR
Label: CRUSADER RECORDS/SOULFOOD
Spieldauer: 36:58 Minuten
Ein Mix aus dreckigem Hard Rock, ein wenig Sleaze und energetischem Rock'n'Roll ist das Aushängeschild der Schweizer Band KING ZEBRA. Mit "Survivors" legen sie ihren dritten Longplayer vor, der gleichzeitig die erste Scheibe mit dem neuen Sänger Eric St. Michaels (Ex-China) ist.
Auf die Ohren gibt es zehn Tracks in der Schnittmenge und für Fans von Hanoi Rocks, Mötley Crüe, den LA Guns und W.A.S.P. Schon der Opener 'Under Construction' geht gut nach vorne und zeigt wohin die Reise geht, bevor 'She Don't Like My R'n'R' mit üppigem Bläser-Einsatz überrascht, aber auch richtig Spaß macht.
Auch softere, eingängigere Stücke wie 'On The Run' oder 'We Are The Survivors' haben ihren Platz. Weitere Anspieltipps sind das knackige 'Rush', die wilde, heiße 'Hot Cop Lady' und das abschließende, grandiose 'On The Run'.
Der Übersong jedoch ist das brillante 'Wall Of Confusion', welches der Frontmann im Duett gemeinsam mit Guernica Mancini darbietet. Dabei stellen die schmutzig-rotzigen Vocals der Thundermother-Frontfrau einen gelungenen Kontrast zum doch recht eingängigen Beginn mit dem hier melodischen Gesang Michaels' dar und harmonieren im folgenden Chorus dann exzellent und kraftvoll miteinander.
Textlich wird hier  – wie man schon an diversen Song- und dem Albumtitel erkennen kann – nicht weniger als das Überleben der Pandemie und die Tatsache gefeiert, dass man dieses Album erfolgreich fertigstellen konnte, ohne corona-bedingt auf der Flucht, im Irrenhaus oder Gefängnis gelandet zu sein. Fazit: ausgezeichnete Hard Rock Scheibe zum Feiern und/oder Cruisen mit jeder Menge guten Songs, viel Humor und einem überragenden Highlight.
Michael Gaspar vergibt 8 von 10 Punkten