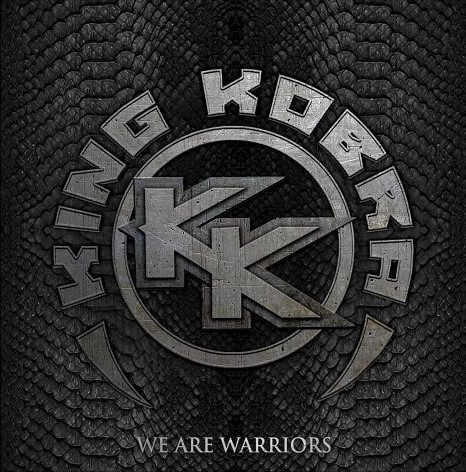 KING KOBRA
Titel: WE ARE WARRIORS
Spieldauer: 51:10 Minuten
VÖ: 11. August 2023
Seit beinahe vierzig Jahren ist die US-amerikanische Band KING KOBRA in der Melodic Metal Szene präsent und aktiv und veröffentlicht in diesen Tagen doch "erst" ihr siebtes Studiowerk "We Are Warriors".
Gegründet wurde die Gruppe 1984 von Drummer und Mastermind Carmine Appice (Cactus,Vanilla Fudge, Rod Stewart) – nicht zu verwechseln mit seinem unwesentlich bekannteren und ebenfalls als Schlagwerker tätigen Bruder Vinny (Black Sabbath, Dio, Heaven and Hell, Last In Line) – konnte einige Achtungserfolge verbuchen und drei Alben veröffentlichen, bevor der Fünfer Ende der 80er komplett auseinander fiel.
Im Jahr 2000 reformierte Appice KING KOBRA und 2010 stieß Sänger Paul Shortino (Ex-Quiet Riot) hinzu. Außerdem sind auf der neuen Scheibe der langjährige Bassist Johnny Rod, Quiet Riot Gitarrist Carlos Cavazo und sein Klampfen-Kollege Rowan Robertson (Ex-Dio) zu hören.
Stilistisch bewegt sich das Quintett in der Schnittmenge bzw. den Grenzbereichen von Glam/Melodic Metal, Hard/Classic Rock und AOR. Obwohl es ein gesundes Fundament aus Gitarrenpower und auch das ein oder andere packende Solo gibt, kommen einem bei so viel 70s und 80s Flair vor allem die Classic Rock Helden der guten alten Zeit wie Uriah Heep, Deep Purple, Ufo oder Nazareth in den Sinn.
KING KOBRA eröffnen mit einem bockstarken Dreierpack aus dem dynamischen Opener `Music Is A Piece Of Art´, dem eingängigen `Turn Up The Music´ mit starkem Chorus und dem treibend-schnellen Singalong-Monster `Secrets And Lies´.
Ruhige, emotionale Töne schlägt man mit vertontem Liebeskummer im gelungenen Nazareth Cover `Love Hurts´ an, bevor das eher langsam groovende `Dance´ mit einem weiteren Killer-Refrain aufwartet und das atmosphärische `Darkness´ vor allem mit seinem Gitarrensolo glänzt.
Natürlich darf bei so vielen Highlights auch der hymnische Titeltrack nicht vergessen werden. Die CD-Version ist überdies mit zwei starken Bonustracks gesegnet: der bluesig-rhythmischen Nummer `Trouble´ und dem abschließenden Ohrwurm `Side By Side´.
Fazit: beeindruckendes, kurzweiliges, erneutes "Comeback"-Album mit starkem Songwriting und großem musikalischen Können der hier beteiligten "alten Hasen", dem man aber auch und vor allem deren Spaß an der Freude (und Musik) und Herzblut anhören kann.
Michael Gaspar vergibt 8 von 10 Punkten