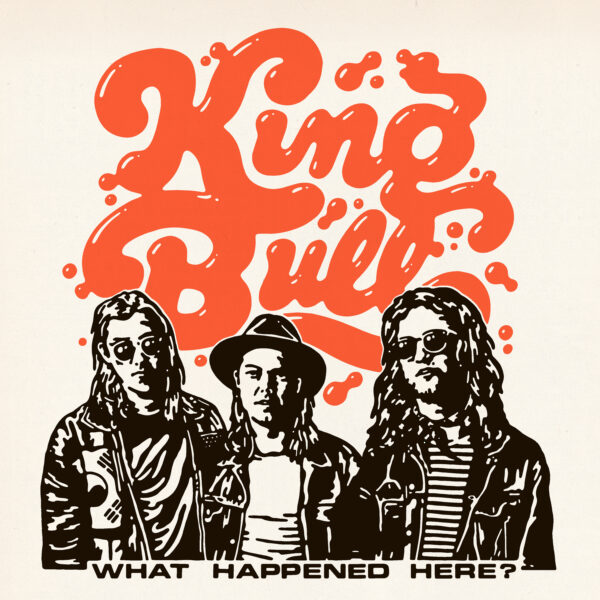 KING BULL
Titel: WHAT HAPPENED HERE?
Spieldauer: 19:00 Minuten
King Bull aus Kanada kommen dieser Tage mit ihrer 5-Track EP "WHAT HAPPENED HERE?" um die Ecke. Die drei Jungspunde machen laut Info Musik für Fans von Bands wie The Who, Iggy Pop, Against Me, AC/DC, Queens of the Stone Age, David Bowie, The Drones, Neil Young etc… Damit holt man meines Erachtens wohl etwas zu weit aus, aber zumindest die drei erstgenannten Bands würde ich so unterschreiben. Vor allem die Parallelen zu Against Me sind nicht von der Hand zu weisen.
Kurz gesagt, es wird eine Mischung aus Hardrock mit deutlich punkigem Einschlag geboten, der, obwohl man immer mit einem Fuß in den 70ern steht, zu keiner Zeit angestaubt oder altbacken klingt. Die Jungs haben Spaß inne Backen und das merkt man ihnen durchaus an. Ich für meinen Teil würde mir für den (sofern es ihn geben wird) ersten Longplayer vielleicht etwas mehr Abwechslung und ein wenig mehr "Wumms" wünschen. Über die Länge einer EP geht das so aber absolut in Ordnung. "WHAT HAPPEND HERE?" ist also ein Album, das durchaus Lust auf mehr macht und gut auf der nächsten Party gespielt werden kann, ohne dass der Stimmungspegel zu sinken droht.
Melanie Pank vergibt 7 von 10 Punkten