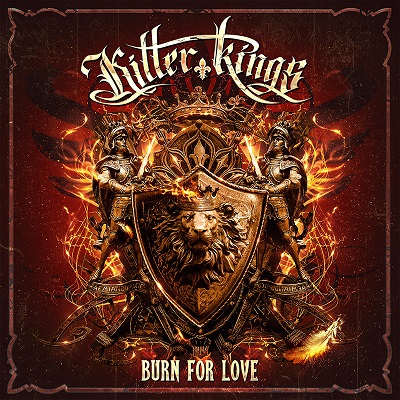 KILLER KINGS – BURN FOR LOVE
Titel: BURN FOR LOVE
Spieldauer: 49:25 Minuten
VÖ: 14. Oktober 2022
"Burn For Love" ist das Debütalbum der rockigen Neuentdeckung KILLER KINGS, obwohl hier soweit das Auge reicht nur "alte", versierte Hasen am Werk sind.
Denn die Band ist die musikalische Allianz zwischen Sänger Gregory Lynn Hall (ex- 101 South) und Gitarrist, Songwriter und Produzent Tristan Avakian (ex- Red Dawn), der schon für und mit so unterschiedlichen Acts wie Queen Extravaganza, Cirque du Soleil, Lauryn Hill, Mariah Carey, Trans-Siberian Orchestra und Biohazard gearbeitet hat.
Hinzu kommen Alessandro Del Vecchio an Bass und Keyboards sowie der Drummer Nicholas Papapicco. Das Quartett kreiert feinen, eingängigen, im Schnitt eher soften und sehr melodischen 80s Hardrock.
Diesem drückt vor allem Fronter Hall mit seinem rauen, tiefen, sonoren und doch angenehm warmen Organ den Stempel auf. Zusammen mit den smoothen Gitarren und den üppigen Synthies kommen dabei elf stimmige Melodic Rock Nummern heraus. Und natürlich darf dabei auch das ein oder andere Solo nicht fehlen.
Die beiden Opening Tracks verfügen zudem über hochkarätige musikalische Unterstützung. Beim Opener `Burn For Love´ ist der schwedische Gitarrist Tommy Denander am Werk, während das folgende `I Will Be Stronger´ von keinem Geringeren als Joel Hoekstra (Whitesnake) instrumental veredelt wird.
Darüber hinaus hat "Burn For Love" Ohrwürmer wie die Vorabsingle `Higher´ und das grandiose `Two Ships´, einen AOR-Kracher wie `Phoenix´ und balladesker Stücke wie beispielhaft `Losing Me´ zu bieten. Auch hymnisches Material wie `Another Night, Another Fight´ und `The Pains Of Yesterday´ kann sich hören lassen.
Fazit: sehr gute Scheibe bei der man eigentlich nur ein wenig die Abwechslung und das ein oder andere kleine musikalische Experiment vermissen könnte, die insgesamt aber stimmigen, erbaulichen, melodischen Hardrock zu bieten hat.
Michael Gaspar vergibt 7,5 von 10 Punkten