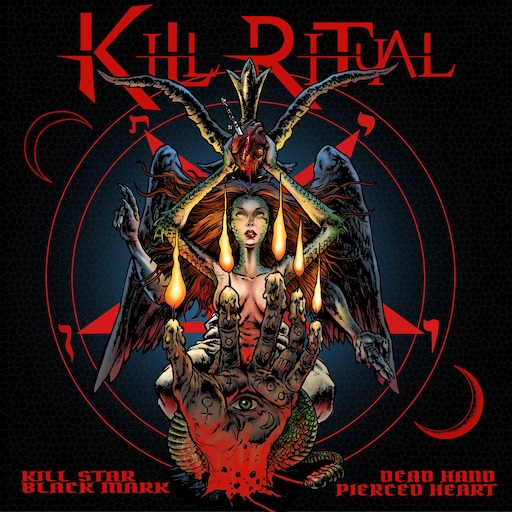 KILL RITUAL
Titel: KILL STAR BLACK MARK DEAD HAND PIERCED HEART
Spieldauer: 48:11 Minuten
VÖ: 28. Oktober 2022
Alles andere als untätig waren die US Trad Heavy Metaller mit Thrash Einschlag KILL RITUAL während der Corona-Pandemie. Brachten sie doch unterdessen mit dem Longplayer "The Opaque And The Divine" (2020) und der EP "Thy Will Be Done" (2021) gleich zwei neue Outputs unter die Leute.
Und bereits jetzt, Ende Oktober 2022, folgt der nächste Streich in Form des neuen Studiodrehers und Bewerbers für den längsten Plattentitel des Jahres "Kill Star Black Mark Dead Hand Pierced Heart".
Der US Metal Sound des kalifornischen Quartetts liefert alles, was das Bangerherz begehrt: kraftstrotzendes Riffing, Melodik, Dynamik, Geschwindigkeit und Power.
Hinzu kommen nicht zu knapp energetische Shouts und Mitgröhl-Momente oder wie der Infotext es ausdrückt diese gewisse, unverwechselbare "Faust in der Luft-Attitüde".
Sofort der starke Start-Doppelpack aus den beiden Vorabauskopplungen `By The Hand Of God´ und `The Whore Of War´ macht keinerlei Gefangenen und belegt diese Aussage mehr als eindrucksvoll. Außerdem wissen vor allem das hymnisch-balladeske `I Am The Night´ und der furiose Titelsong zu gefallen.
KILL RITUAL klingen wie ein Hybrid ihrer hörbaren, potentiellen Vorbilder wie Nevermore, Flotsam & Jetsam und Iced Earth, deren Klasse und Qualität sie freilich (noch) nicht ganz erreichen. Solide, schnörkellose , melodische US Metal Kost zum Bangen und Mitgehen bietet die Scheibe aber allemal.
Michael Gaspar vergibt 7 von 10 Punkten