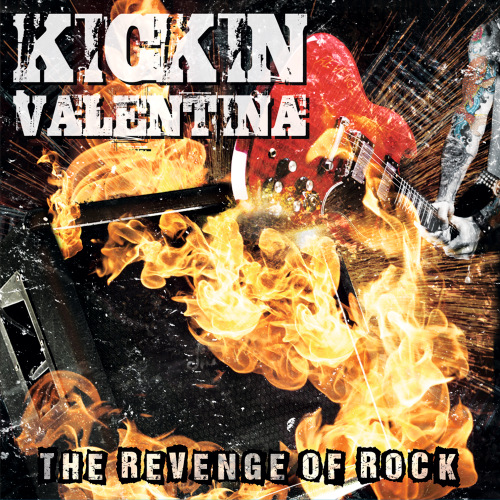 KICKIN VALENTINA
Titel: THE REVENGE OF ROCK
Spieldauer: 39:17 Minuten
Ich weiß ja nicht, was die arme Valentina den vier Jungs aus Atlanta getan hat. Aber in deren Welt aus Booze, Weed und Rock'N'Roll wird es schon Gründe geben, auf das bedauernswerte Mädel mittlerweile zum dritten Mal einzutreten.
Auf 'The Revenge Of Rock' gibt ex-Jetboy Sänger D. K. Revelle seinen Einstand und tut KICKIN VALENTINA mit seinem rauhen aber trotzdem variablen Timbre hörbar gut. Wenn auch nicht beim Opener 'Freak Show', der ein bisschen schaumgebremst daherkommt, und wo ein komischer Vocaleffekt den Refrain igendwie lame klingen lässt. Auf dem Rest des Albums aber bespielen KICKIN VALENTINA dann kompetent die gesamte Klaviatur des Sleaze-Rock. Mal mit dem durchgedrückten Gaspedal wie im Titelsong oder dem an frühe GNR erinnernde 'Rat Race', mal eher melodisch wie bei der ersten Single-Auskopplung 'Somebody New' oder der Halbballade 'Tattoo Heart', wo D. K. Revelle fast wie Bryan Adams klingt. Auch die restlichen Songs wissen durch eine gewisse bluesig-rauchige whiskygetränkte Räudigkeit zu gefallen. Wobei die Produktion in meinen Ohren durchaus ein bisschen kantiger hätte ausfallen können.
So richtig Blutwurst ist die Rache von KICKIN VALENTINA insgesamt nicht, aber eine soilde eingespielte Sleaze/Hard-Rock-Scheibe konnten sie mit 'The Revenge Of Rock' durchaus vorlegen. Und überlaufen ist dieses Genre momentan jetzt auch nicht, so das Freunde des Genres hier gerne zugreifen dürfen. Gut, in meiner persönlichen Rock'n'Roll-Welt werden wohl weiterhin Love/Hate oder die Dangerous Toys dominieren, aber KICKIN VALENTINA kann ich da zwischendurch auch gerne mal einschieben ohne in ein Stimmungsloch zu fallen.
Dirk Eckhard vergibt 7,5 von 10 Punkten