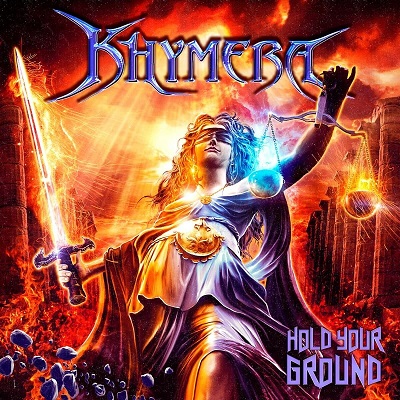 KHYMERA
Titel: HOLD YOUR GROUND
Spieldauer: 40:44 Minuten
VÖ: 10. Februar 2023
2003 eigentlich als Projekt von Kansas-Sänger Steve Walsh und dem italienischen Gitarristen/Produzenten Daniele Liverani gestartet, nahm die Band KHYMERA erst mit dem Einstieg von Bassist und Produzent Dennis Ward (Magnum, Pink Cream 69) so richtig Fahrt auf.
Nach einer längeren Pause vor Album Nummer drei "The Grand Design" (2015) und vier "Master Of Illusions" (2020) folgt nun wieder zügig der fünfte Streich "Hold Your Ground" mit dem folgenden Lineup: Michael Klein (Gitarre), Keyboarder Eric Ragno und Drummer Michael Kolar sowie Backingvocals von Pete Newdeck.
Wie zu erwarten, bietet auch die neue Scheibe respektablen, europäischen Melodic Rock der eher ruhigen, entspannten und im gemäßigten Tempo vorgetragenen Sorte. Dabei übernimmt der Mastermind neben den Leadvocals auch den Bass und einige der reichlich und dominant vorhandenen Keyboardparts.
Viele Songs beschäftigen sich, bereits an den Titeln ersichtlich, mit Zwischenmenschlichem und so ist es wenig verwunderlich, dass es hier eher was für Herz und Seele und nix auf die Zwölf gibt. Und doch sind ein munterer, veritabler Ohrwurm wie `Firestarter´ und amtliche AOR-Hymnen wie `Hear What I´m Saying´ und `Could Have Been Us´ ebenfalls vertreten und gewillt, ein wenig mehr Gas zu geben.
Den Großteil des Materials bilden jedoch eingängige, kuschelrocktaugliche Nummern wie das schmusige, mit reichlich Synthieglitzer versehene `Hear Me Calling´ und die hymnische Ballade mit Hammerchorus `Our Love Is Killing Me´. Andere Stücke wie der gute Opener `Don´t Wait For Love´ sortieren sich wiederum irgendwo dazwischen ein.
Insgesamt ist die Platte eine ordentliche, nicht mega aufregende oder innovative, aber gutklassige und musikalisch einwandfreie, unterhaltsame, wenn auch manchmal etwas gleichförmige, enorm melodische Angelegenheit mit gutem, klassischem Songwriting.
Michael Gaspar vergibt 7,5 von 10 Punkten