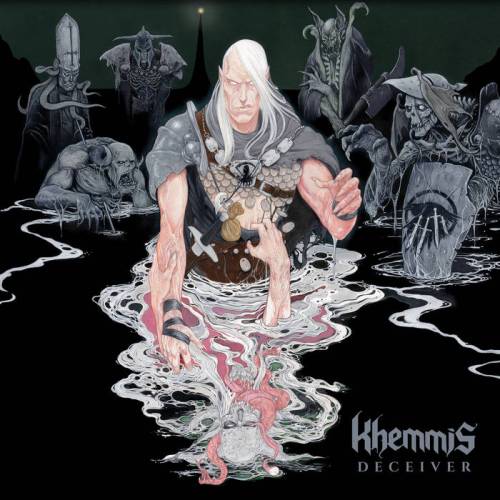 Spieldauer: 41:44 Minuten
Neues Futter von den Denver Doomstern KHEMMIS. Drei Jahre nach dem letzten Album "Desolation" hat sich die eigenwillige Truppe erneut zusammen gefunden, um uns neues Material zu präsentieren.
Und das kann man als Doomhead durchaus goutieren. Zwar eröffnet der Speedster 'Avernal Gate' das Album alles andere als doomig, fast schon thrashig, aber auch das steht KHEMMIS gut zu Gesicht. 'House Of Cadmus' ist dann wieder typischer Doom Metal und 'Living Pyre' feinster Epic Doom.
Das balladesk beginnende 'Shroud Of Lethe' wechselt in eine fette Mid Tempo Walze, mit hohem Anteil an traditionellen Heavy Metal, bevor es schleppend ausklingt. Der treibende Stampfer 'Obsidian Crown' ist gelungen und mit dem pumpenden Up Tempo Track 'The Astral Road', der sich mit gelungenen Epic Parts schmückt, geht ein würdiges Werk zu Ende.
Die für KHEMMIS so typischen wechselnden Vocals zwischen klaren, epischen Parts und Paradise Lost mäßigen Growls funktionieren hier auch wieder gut , so dass KHEMMIS Fans hier wenig falsch machen können.
Ludwig Lücker vergibt 8 von 10 Punkten