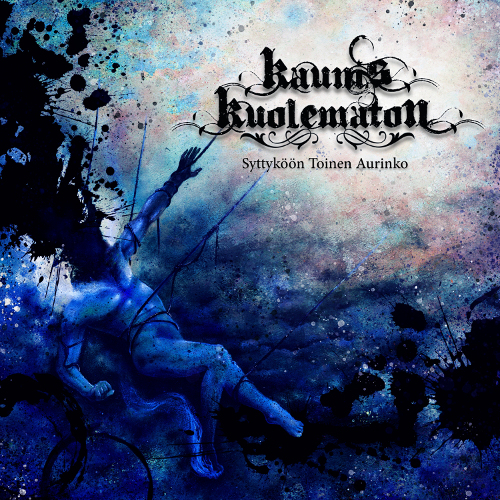 KAUNIS KUOLEMATON
Titel: SYTTYKÖÖN TOINEN AURINKO
Spieldauer: 52:15 Minuten
Leck mich am Boppes, bis man Bandnamen und Albumtitel erst einmal eingetippt hat, ist die halbe Plodde durch… Naja, als Fan von Kuolemanlaakso ist man Kummer gewohnt. Nun soll es hier allerdings nicht um den Unterschied zwischen der finnischen und den indogermanischen Sprachen, sondern um "Syttyköön Toinen Aurinko" gehen. Womit man fast wieder beim Thema wäre. Und bei Kuolemanlaakso. Und Swallow The Sun oder Ghost Brigade. Black Sun Aeon auch. Album Nummer drei changiert nämlich wieder einmal zwischen den von diesen Bands definierten Finnen, äh, Polen.
Dabei stehen KAUNIS KUOLEMATON tatsächlich e-x-a-k-t in der Schnittmenge zwischen ihren Landsmännern. Zum einen sind ihre Texte in finnischer Sprache verfasst und ihre Sounds meist extrem zupackend, zum anderen werden verstärkt melancholische Elemente im Stile Swallow The Suns oder Ghost Brigades in ihre Sounds eingeflochten. Wenn sie dies wie in der Single "Hyvästi" (stark!) oder "Mustavalkoinen" tun, überzeugen sie dabei mehr als im reinen Muskelspiel zwischen Doom Death und sphärischen Keyboardklängen. "Kylmä Maa" sowie "Paha Ihminen" schaffen auch Räume für dezente Black Metal-Sounds (macht Juha Raivio bekanntlich auch schonmal gerne).
Was die Band jedoch nicht hervorzurufen vermag, ist zum einen die allgegenwärtige emotionale Tiefe Swallow The Suns sowie Black Sun Aeons, noch die zupackende Rasse und Klasse, die Kuolemanlaakso etwa in "Me Vaellame Yössä" entfesseln. Dennoch haben wir es hier mitnichten mit einem wirklich schwachen Album zu tun. Zuvörderst fehlt es KAUNIS KUOLEMATON an Originalität, dies dürfte nunmehr klar geworden sein. Sie geben sich alle Mühe, ihre Songs abwechslungsreich zu gestelten; wenn man jedoch derart nahe an solchen Könnern operiert, muss man sich zwangsläufig an diesen messen lassen und läuft dementsprechend Gefahr, an den schroff gesetzten Klippen zu zerschellen. Man hat all dies auf Alben wie "Tulijoutsen", "Routa", "When A Shadow Is Forced Into The Light" oder "Isolation Songs" eben schonmal jenes entscheidende Iota besser umgesetzt gehört.
Dennoch hören Fans der Referenzbands rein.
Patrick Müller vergibt 6 von 10 Punkten