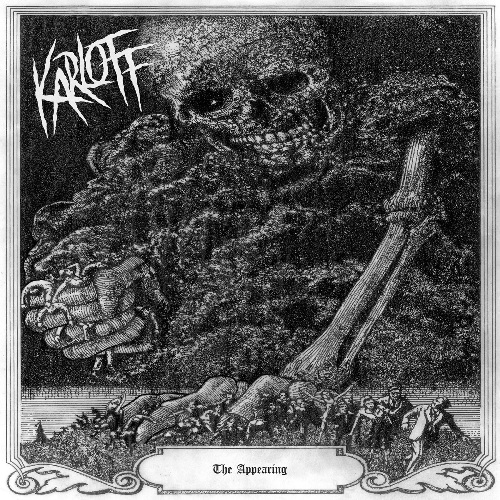 KARLOFF
Titel: THE APPEARING
Label: DYING VICTIMS PRODUCTION
Spieldauer: 28:59 Minuten
KARLOFF stammen aus Niedersachsen, viel mehr kann ich allerdings auch nicht zu der Band vermelden.
Wenden wir uns also der Einfachheit halber der Mucke zu, denn die ist und sollte ja auch das Wichtigste sein. Die Jungs zocken eine räudige Mischung aus Heavy Metal, Black Metal und einer fetten Portion Punk. Die Chose ist auch relativ rau und basisch, ja eigentlich sogar rumpelig produziert, so dass mir hierbei unweigerlich Bands wie Venom, Midnight, Darkthrone oder Warfare in den Sinn kommen, also alles Kapellen, die zwar nicht die Massen begeistern, aber durchaus, und das nicht zu Unrecht,  einen gewissen Kultstatus besitzen.
Und bei Tracks wie dem treibenden Metal Punker 'My Misantrophic Kingdom', dem speedigen 'The Sound Of Discipline', dem zwischen treibenden Rocker und Doomer wechselnden 'Superior Presence Of Cruelty' und meinem favorisierten Track, dem treibenden Banger 'On The Old Ropes' macht es auch mächtig Spass, die Nackenmuskulatur zu stimulieren.
Zwar verläuft der Rest der Scheibe etwas weniger spektakulär, aber einen gewissen Reiz für Undergound Fans und Freunde der genannten Kapellen kann ich KARLOFF nicht absprechen. Bin gespannt, wie es mit der Truppe weiter geht.
Ludwig Lücker vergibt 7,5 von 10 Punkten