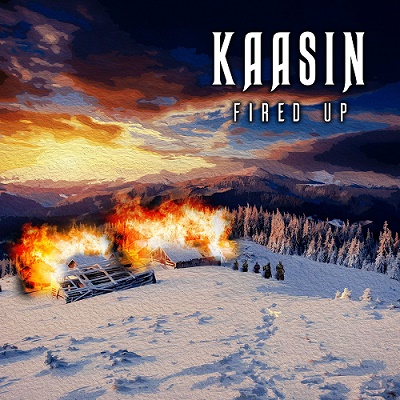 Spieldauer: 48:26 Minuten
Die Hardrockband KAASIN wurde erst im vergangenen Jahr gegründet und "Fired Up" stellt das Debütalbum dar, ihr Gründer Jo Henning Kaasin ist aber beileibe kein Unbekannter. Der Norweger arbeitete schon mit Joe Lynn Turner, Glenn Hughes, Doogie White und Bernie Marsden zusammen und legte seine Band Come Taste The Band nach 23 teilweise sehr erfolgreichen Jahren Anfang 2020 auf Eis.
Von "Fired Up" hatte ich deutlich Progressiveres erwartet, aber die meiste Zeit überwiegt doch reiner, hammond-lastiger Hardrock bis AOR der guten, unterhaltsamen Sorte. Direkt der Opener 'We Are One' ist ein packender Ohrwurm mit Hit-Refrain und auch die anschließende Vorabsingle 'Hidden' hat einen solchen sowie jede Menge Groove und Schmiss.
Beim eher bluesigen 'The Smoking Gun' werden die SouthernRock-Fans bedient bevor es beim guten 'Shades Of Yesterday' balladesk und emotional, aber nicht allzu kitschig zugeht.'Chain Of Love' ist ein weiterer AOR-Hammer mit viel Groove, Synthies und endlich auch mal den erhofften Prog-Anteilen und läutet eine ganz starkes Ende der neuen Platte ein.
Denn mit den beiden düsteren, recht heavy geratenen Tracks 'Wrong' und 'Inside Out' sowie den beiden bereits aus dem vergangenen Jahr bekannten ausgekoppelten Songs 'Revelation' und 'Runaway Train' steht dort ein ganz starker Viererpack, der den grandiosen, abwechslungsreichen Silberling standesgemäß beschließt.
Michael Gaspar vergibt 8,5 von 10 Punkten