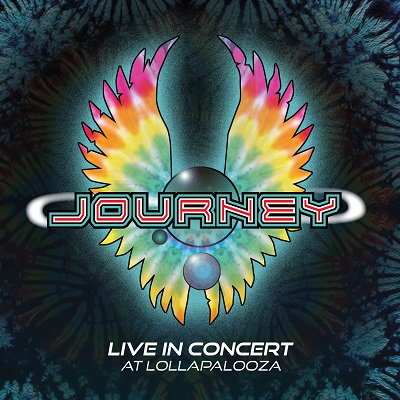 JOURNEY
Titel: LIVE IN CONCERT AT LOLLAPALOOZA
Spieldauer: 94:55 Minuten
VÖ: 09. Dezember 2022
Die Aufnahme in die Rock and Roll Hall of Fame im Jahr 2018, 25 Gold- und Platin Alben, darunter die Greatest Hits Collection (1988) mit über 18 Millionen verkauften Einheiten, und bis zu 80 Millionen verkaufte Platten weltweit, sprechen eine deutliche Sprache: JOURNEY sind einer der altgedientesten und erfolgreichsten Melodic Rock Acts überhaupt.
Nachdem das neue Studioalbum "Freedom" im Juli 2022 erschienen ist, die erste Scheibe seit "Eclipse" (2011), folgt nun die Live-Scheibe "Live In Concert At Lollapalooza" mit der schon beinahe legendären Samstags Headliner Performance vom Lollapalooza Festival, aufgenommen am 31. Juli 2021 in Chicago.
Die Band rockt sich durch eine fulminante Best-Of-Setliste, welche ausschließlich die Alben der Jahre 1978-86 berücksichtigt, und in verschiedenen Versionen als Doppel-CD/DVD, Blu-ray und Vinyl herauskommt.
Der nicht mehr ganz so neue philippinische Frontmann Arnel Pineda, nun auch schon seit fünfzehn Jahren am Mikro der Altmeister, und seine fünf Mitstreiter Neal Schon (Gitarre), Jonathan Cain  (Keyboard), die Drummer Deen Castronovo und Narada Michael Walden, Bassist Marco Mendoza sowie Jason Derlatka (Keyboard, Vocals) präsentieren sich als kompakte, eingespielte Einheit und rufen beim Festivalpublikum begeisterte Reaktionen hervor.
Der Sechster kann dabei natürlich auf ein schier unerschöpfliches Reservoir an Hits und Stücken zurückgreifen, die so gut wie jeder schon mal im Radio gehört hat, wie den Opener `Separate Ways (Worlds Apart)´, `Only The Young´, `Escape´ und das 10-minütig abgefeierte `La Do Da´.
Einen guten Einblick in Setting, Bühne und Stimmung sowie Aussehen und Qualität der Filmaufnahmen liefern die beiden vorab veröffentlichten Videos zu `Be Good To Yourself´ und `Any Way You Want It´.
Die zweite Hälfte des Sets enthält eigentlich nur noch Superhits von AOR über Party bis zu balladesken Tönen im emotional-intensiven pianolastigen `Faithfully´. Da dürfen fraglos auch Perlen wie `Who's Crying Now´, `Wheel In The Sky´, `Open Arms´ und `Lovin' Touchin' Squeezin'´nicht fehlen.
Und natürlich bildet `Don't Stop Believin'´ den viel umjubelten Schlusspunkt einer grandiosen, kompetenten Rockshow ohne viel Firlefanz.
Fazit: beeindruckendes, kurzweiliges Livedokument einer Melodic Rock Legende und ihrer zeitlosen Songs, die auch nach 40 Jahren nicht an Bedeutung, Spielfreude und Frische verloren haben. Oder wie es im Infotext so schön heißt: "The stunning set, …, serves as a testament not only to the band's enduring legacy, but their relevance to a whole new generation of rock 'n roll fans."
Michael Gaspar vergibt 8,5 von 10 Punkten