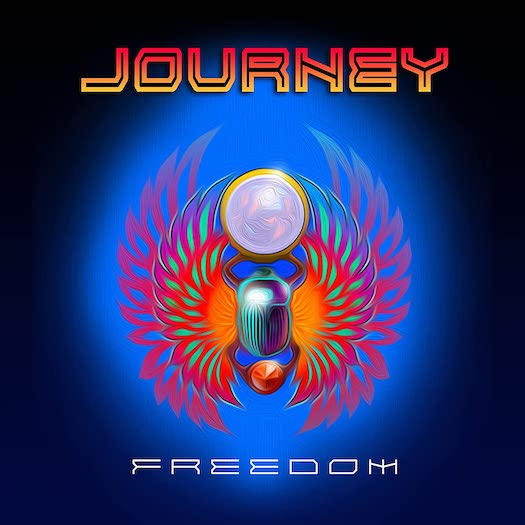 Spieldauer: 73:04 Minuten
VÖ: 08. Juli 2022
Wenn der König ruft, folgt man. In diesem Falle rufen JOURNEY, die Könige des AOR, die nach elf Jahren wieder ein neues Album vorlegen. "Freedom" und um es kurz zu machen: The King Rules! Mit ihrem unübetroffenen Gespür für die ganz große Melodie und cinematische  Dramatik, der auch heute noch jeden Kinofilm zu einem tränenreichen Finale führen kann, beweisen JOURNEY ihre Sonderstellung im Genre. Songs wie `Don't Give Up on Us`, `You Got The Best Of Me`, `Don't Go` rocken auch heute noch jedes Stadion und die Powerballaden könnten gefühlvoller einfach nicht sein (`Beautiful As You Are`).
Bemerkenswert, die völlig zeitlose Mischung aus Synthiegetriebenen Rocknummern mit der entsprechenden Gitarrenarbeit und der nötigen positiven Energie im Songwriting ist auch der neuesten JOURNEY-Inkarnation eigen. Dabei hat die Band sich im Laufe der Jahre völlig verändert. Mit dem einzig verbliebenen Originalmitglied Neal Schon, Langzeitkeyboarder Jonathan Cain, Arnel Pineda, Jason Derlatka, Randy Jackson, Narada Michael Walden und Deen Castronovo, der bei After Glow ein Special Appearance als Leadsänger hat, funktioniert jeder einzelne, der insgesamt 15 Songs. Zum heulen schön oder zum mitklatschen geboren aber woher sonst sollten auch 25 Gold und Platinalben kommen? Eben.
Um der Lobhudelei ein Ende zu setzen, JOURNEY veröffentlichen hier kein neues `Don't Stop Believin` oder `Any Way You Want` aber ein saustarkes Spätwerk, das absolut jeden Fan des Adult Oriented Rock begeistern muss.
Long live The King!
Sven Bernhardt vergibt 9 von 10 Punkten