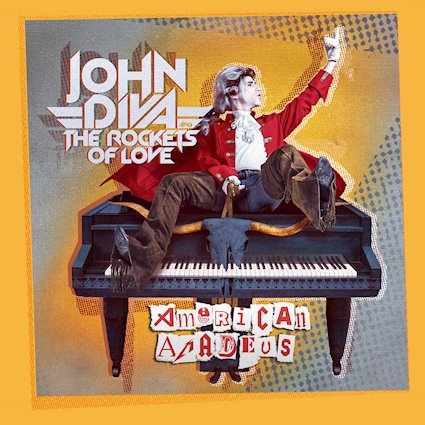 JOHN DIVA AND THE ROCKETS OF LOVE
Titel: AMERICAN AMADEUS
Spieldauer: 46:37 Minuten
Irgendwie weiß man nicht so genau, wo JOHN DIVA AND THE ROCKETS OF LOVE herkamen. 2013 waren sie plötzlich da und machten mit ihren energiegeladenen Shows schnell auf sich aufmerksam. Das brachte den Jungs schon ein Jahr später einen Auftritt in Wacken ein. Gab man damals, noch als reine Coverband, Hits aus der goldenen Ära des Glamrocks der 80er Jahre zum Besten, entschied man sich, es doch einmal mit eigenen Kompositionen versuchen und so erschien 2019 das Debüt "Mama Said Rock Is Dead", welches direkt einen Achtungserfolg verbuchen konnte, indem es auf Platz 24 in die Charts einstieg.
Ließ der Erstling noch des Öfteren Vergleiche mit den Kollegen von Steel Panther zu, vermag man auf dem neuen Output "AMERICAN AMADEUS" mit einer gehörigen Portion Eigenständigkeit zu überzeugen. Aber keine Sorge – natürlich lassen 80er Größen wie Mötley Crüe, Poison, Def Leppard oder Cinderella noch immer grüßen, man verpasst dem Ganzen jedoch einen eigenen Anstrich, der den 12 neuen Songs sehr gut zu Gesicht steht. Das Album strotz einfach vor guter Laune. Textlich geht es, wie es sich für anständige Glamrocker gehört, in erster Linie um Sex, Drugs & Rock'n'Roll, wobei man sich allerdings selbst nicht allzu ernst zu nehmen scheint. Kurz gesagt: Das Album hält alles Trademarks bereit, die den Hairmetal ausmachen. So muss das!
Fazit: Wer das das Debüt gefeiert hat, wird den "AMERICAN AMADEUS" erstrecht abfeiern. JOHN DIVA und seinen Raketen ist es gelungen noch eine Schippe draufzulegen und einen überzeugenden Nachfolger einzuspielen. Für Freunde des Genres schon jetzt ein Highlight des noch jungen Jahres!
P.S.: Die Vinylversion wird als 2LP mit 15 Songs (davon 3 Bonustracks) erscheinen.
Melanie Pank vergibt 8 von 10 Punkten