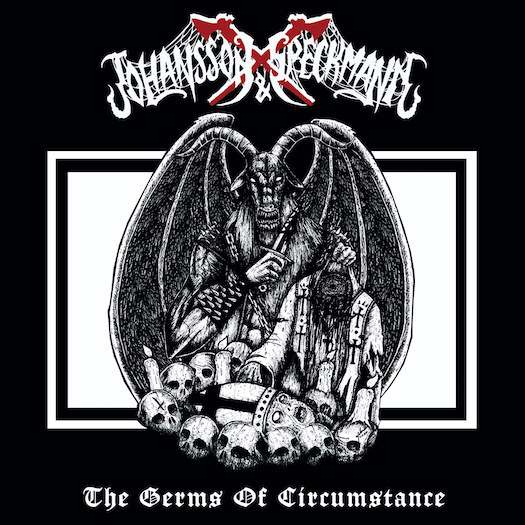 JOHANSSON & SPECKMANN
Titel: THE GERMS OF CIRCUMSTANCE
Spieldauer: 26:17 Minuten
Rogga Johansson und Paul Speckmann gehören wohl zu den fleißigsten Death Metallern überhaupt, denn irgendwie scheint immer irgend ein neues Album anzuliegen.  In der gemeinsamen Form bringen sie es auch schon auf fünf Scheiben in sieben Jahren.
Das neue Produkt: "The Germs Of Circumstance" fällt da zur Freude der Fans nicht aus dem bisherigen gemeinsam verfolgten Konzept. Eins, zwei, Knüppel aus dem Sack Songs, die immer straight und schnörkellos in gewohnter Manier aus den Boxen scheppern. Der Sound ist wie üblich eher dröge und vielleicht etwas drucklos, das Songwriting wie gehabt und die Vocals… Speckmann halt. Fragt sich wo sind die Unterschiede zu den Vorgängern? Nirgends, aber die simplen Tracks besitzen ihren ganz eigenen old-school Gepolter Charme und verzichten konsequent auf jede Neuerung. Das kann man gut finden, muss man aber nicht, denn irgendwelche  Höhepunkte sucht man vergebens, kein Track fällt besonders positiv oder negativ ins Gewicht. Traditionell , roh und dreckig: Bulldozer primitiv Death Metal, amerikanischer Prägung, den man so oder ähnlich schon x-mal gehört hat, auch von den beiden zusammen.
"The Germs Of Circumstance" ist bestimmt kein muss für alle Freunde des Death Metals, sondern eher geeignet für diejenigen, die sich noch nicht satt gehört haben und noch nicht mal eine halbe Stunde Spielzeit ganz unterhaltsam voll-gedroschen werden wollen.
Sven Bernhardt vergibt 6,5 von 10 Punkten