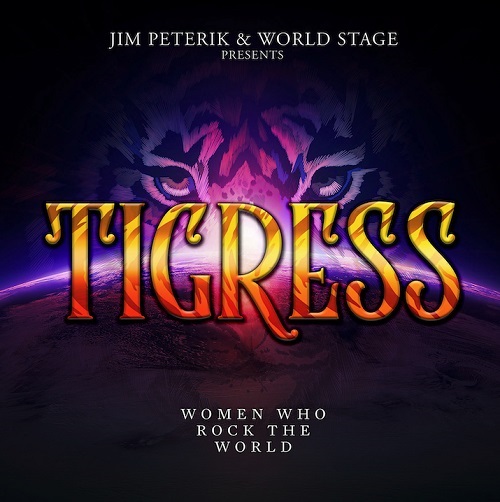 JIM PETERIK & WORLD STAGE
Titel: TIGRESS: WOMEN WHO ROCK THE WORLD
Spieldauer: 72:10 Minuten
Der US-amerikanische Songwriter und Rockmusiker JIM PETERIK hat unzählige bekannte Rocksongs für Bands wie 38 Special und Survivor (mit)geschrieben, am populärsten sicherlich die Rocky-Hymne 'Eye Of The Tiger'. Unter dem Banner JIM PETERIK & WORLD STAGE hat er nun jedoch ein ganz anderes, gleichermaßen inspirierendes und ehrgeiziges Projekt umgesetzt.
Für "Tigress: Women Who Rock The World" erstellte er einen Wunschzettel mit Kollaborationspartnerinnen und schrieb ihnen die Tracks dazu auf den Leib. Darunter bei weitem nicht nur Sängerinnen, sondern auch viele an diversen Instrumenten tätige Künstlerinnen.
Auf der Liste vertreten sind sowohl Größen wie Janet Gardner (ex-Vixen), Cathy Richardson (Jefferson Starship), Jenniffer Batten, Mindi Abair, Kate French, Kimi Hayes, Chez Kane und Rosa Laricchiuta (Black Rose Maze, Trans-Siberian Orchestra), aber auch etliche Newcomerinnen wie Lindsay Kent, Leslie Hunt, Chloe Lowery und Marine Lacoste.
Herausragt hier definitiv der grandiose, atmosphärische Titelsong, an dem die Sängerin Kate French (Ex-Chastain), die Gitarristin Jennifer Batten sowie die Violinistin Abigail Stanschmidt beteiligt sind. Ebenso die beiden besonders eingängigen Nummern 'Prom Night In Pontiac' mit Sängerin Chloe Lowery (TSO), Anika Nilles am Schlagzeug und Ashley Reeve am Bass sowie 'A Capella' featuring Chez Kane.
Weitere Anspieltipps daneben das herrlich rockig-rotzige von Rockröhre Cathy Richardson und erneut Jennifer Batten vorgetragene 'Full Moon Crazy' und die emotional-eindringliche Hymne 'Taller', performt von der jungen Chicagoer Musikerin Leslie Hunt.
Viele der weiteren Kompositionen bewegen sich jedoch im eher seichten Bereich des Melodic Rock, oft sogar mit starker Schlagseite Richtung Singer/Songwriter oder Countrybereich, aus dem ja auch einige der Protagonistinnen stammen. "Tigress: Women Who Rock The World" fehlt es somit ein wenig an der nötigen Durchschlagskraft und Abwechslung, auch wenn hier musikalisch natürlich alles im grünen, manchmal aber etwas eintönigen Bereich ist.
Michael Gaspar vergibt 6,5 von 10 Punkten