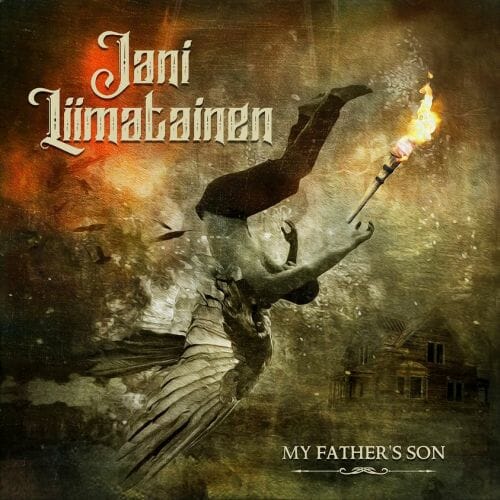 JANI LIIMATAINEN
Titel: MY FATHER´S SON
Spieldauer: 58:21 Minuten
VÖ: 06. Mai 2022
JANIA LIIMATAINEN, Gründungs- und Ex-Mitglied der finnischen Power Metaller von Sonata Arctica, legt sein neues Soloalbum namens "My Father´s Son" vor. Der Gitarrist und Songwriter (The Dark Element, Insomnium, Cain's Offering) bedient sich bei seinen zehn neuen Songs irgendwo in der Schnittmenge aus melodischem Heavy, Power und Prog Metal einer illustren Gästeschar.
Gastvocals gibt es von Björn "Speed" Strid (Soilwork, The Night Flight Orchestra), Tony Kakko (Sonata Arctica), Timo Kotipelto (Stratovarius), Anette Olzon (The Dark Element), Renan Zonta (Electric Mob), Pekka Heino (Brother Firetribe) und Antti Railio (Celesty, Diecell).
Bassist Jonas Kuhlberg (One Desire), Drummer Rolf Pilve (Stratovarius, Smackbound) und Pianist Jarkko Lahti stellen gemeinsam mit Liimatainen Gitarre, Keys, Programming) die instrumentale Grundlage her. Jens Johansson (Stratovarius, Rainbow) und Janne Huttunen steuern Keyboard und Saxophon Soli bei.
Der moderne, hymnische Opener `Breathing Divinity´ ist der Stimme von Björn "Speed" Strid auf den Leib geschneidert und klingt nach The Night Flight Orchestra meets Soilwork-Chorus in Songlänge. Ähnlich verhält es sich mit der ersten Vorabsingle `All Dreams Are Born To Die´ mit Tony Kakko (Sonata Arctica), die mit tollen Leads, packendem Riff und gutem Refrain überzeugt.
Liimatainen´s The Dark Element Kollegin Anette Olzon erhält mit `I Could Stop Now´), einen flotten, folkigen Song verpasst, während Stratovarius-Frontmann Timo Kotipelto die üppige Power-Ballade (`Who Are We´) und mit dem mitreißenden Uptempo-Kracher `Into The Fray´ mit Mitsing-Chorus und tollen Keys eines der Highlights der Platte performen darf.
Weitere Glanzlichter sind das verspielt beginnende und in ausladenden Piano-Parts aufgehende `The Music Box´ (Renan Zonta), die vom Meister selbst gesungene, emotionale Ballade `Haunted House´ sowie der epische, progressiv beeinflusste Elfeinhalbminüter und Titeltrack mit beinahe symphonischem Ende ganz zum Abschluss des Silberlings.
Einerseits zeigt Liimatainen sein musikalisches und songwriterisches Können und versteht es meisterhaft, seinen Vokalisten und ihren gesanglichen Stärken Songs auf Maß zu schneidern. Andererseits verlassen die Sängerin und die Sänger so selten ihre Komfortzone und der Nervenkitzel geht ein wenig verloren.
Hat die Welt also auf dieses Album gewartet? Vermutlich nicht, aber anhören sollten Melodic/Power Metal Fans es sich dennoch, denn eine einwandfreie Scheibe mit wirklich guten Songs und hervorragenden Sängern kann man doch eigentlich immer gut gebrauchen.
Michael Gaspar vergibt 7 von 10 Punkten