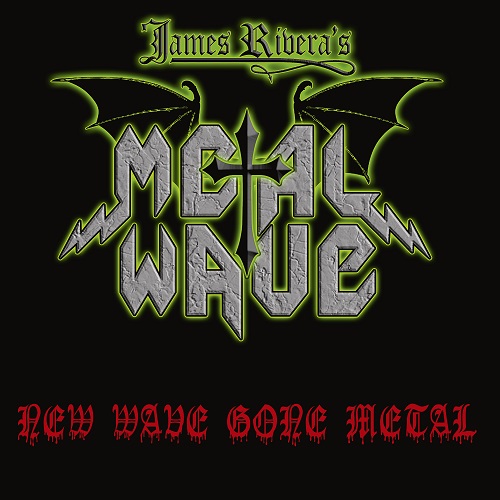 JAMES RIVERA´S METAL WAVE
Titel: NEW WAVE GONE METAL
Spieldauer: 43:23 Minuten
VÖ: 28. Juli 2023
Der US-Sänger JAMES RIVERA wurde vor allem als Frontmann der kalifornischen Heavy Metaller HELSTAR bekannt, war aber unter anderem auch für und bei Vicious Rumors und Seven Witches hinter dem Mikro tätig.
Sein neues Projekt trägt die Genrebezeichnung direkt im Namen, denn mit JAMES RIVERA´S METAL WAVE hauchen der Protagonist und seine vier Mitstreiter New Wave/Dark Wave, Gothic Rock und Synthiepop Perlen neues Leben ein und kleiden sie in ein dunkles Gewand aus 80er Metal.
Die zehn Songs sind nicht immer das pure Vergnügen, aber beispielsweise die eröffnende Metallbearbeitung des Depeche Mode Hits `Black Celebration´ (1986) kann sich durchaus hören lassen und weiß in der düster-gitarrenlastigen Version leidlich zu gefallen.
Besonderen Spaß machen Stücke wie das tanzbar-rhythmische `Shock The Monkey´ (Peter Gabriel), das seinen ursprünglichen Charakter deutlich verlassende `Everybody Wants To Rule The World´ (Tears For Fears) und das zum wilden Horror-Metal-Stil wie die Faust aufs Auge passende `Bela Lugosi's Dead´ von Bauhaus.
Diese passen – drücken wir es positiv aus – zum dargebotenen Stil und der Art Rivera´s zu singen deutlich besser als einige der übrigen Tracks. Auf der Habenseite sind außerdem noch die Vorabsingle `Love My Way´ von den britischen New Wave Rockern The Psychedelic Furs, der unterhaltsame und gut umgesetzte Ohrwurm `Pet Sematary´ (Ramones) sowie das abschließende, überzeugend metallisierte `Rain´ von The Cult, bei dem die Truppe vom US Sänger und Multitalent Jan Kimmel (Hammond Orgel, Backing Vocals und Co-Lead Vocals) Unterstützung erfährt.
Fazit: nicht immer komplett überzeugende Coverscheibe mit einigen lichten Momenten, einem kurzweiligen Sound, aber auch ein paar schwächeren Stücken, die man sich lieber im Original anhören sollte.
Michael Gaspar vergibt 7 von 10 Punkten