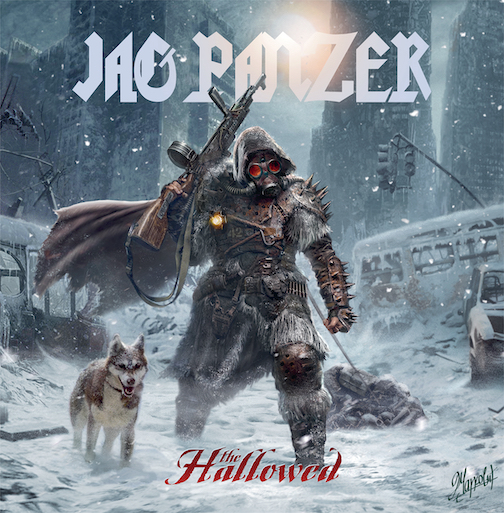 JAG PANZER
Titel: THE HALLOWED
Label: ATOMIC FIRE RECORDS
Spieldauer: 53:00 Minuten
VÖ: 23. Juni 2023
Sollte es ein prototypisches US-Metal-Album geben, ist dies zweifelsohne "Ample Destruction" von JAG PANZER. Harry Conklin (Voc), John Tetley (Bass) und Mark Briody (Git) waren noch auf der Highschool, als sie die Songs dafür schrieben.
Heute, also rund 40 Jahre später, haben es diese drei, zusammen mit Rikard Stjernquist (Dr) und Ken Rodarte (Git) vielleicht geschafft, ein Album vorzulegen, welches diesem Monument am nächsten kommt. Zwar klingt "The Hallowed" naturgemäß völlig anders als "Ample Destruction", aber auf seine Art und Weise ist dieses Konzeptalbum nicht minder beeindruckend.
Die Band hat so eng und akribisch zusammengearbeitet wie noch nie und ist top vorbereitet ins Morrisound Studio gegangen. Der Drumsound wurde von Ken Mary (Fifth Angel, Flotsam And Jetsam) eingefangen, so dass es in Sachen Produktion absolut nichts zu beanstanden gibt.
Die zehn Songs funktionieren auf mehreren Ebenen. Einerseits ist jeder für sich ein kleines Meisterwerk, andererseits bilden sie zusammen mit den sinnvoll eingesetzten Intros und Zwischenspielen eine packende Story, um eine Gruppe von postapokalyptischen Überlebenden, die mit der Hilfe trainierter Mutantentiere versucht, einen sicheren Ort namens "The Hallowed" zu finden.
Zur Musik: Das Eröffnungsduo 'Bound As One'/'Prey' ist genau wie 'Stronger Than You Know' bockstarker Uptempo-Stoff mit packenden Refrains. 'Ties That Bind' und 'Onward We Toil' sind typische JAG PANZER-Midtempo-Hymnen. Die zweite Albumhälfte legt sogar noch einen drauf und die Songs werden länger und epischer: 'Edge Of A Knife' und 'Dark Descent' sind nicht von dieser Welt, vielleicht das Beste, was die Band seit 'Shadow Thief' & Co von "The Fourth Judgement" aufgenommen hat.
Alle Musiker agieren hier auf höchstem Niveau, besonders hervorheben möchte man Kens wahnwitzige Gitarrenarbeit, die selbst einen Joey Tafolla vergessen macht, und natürlich den Tyrant, der hier ein weiteres Mal unter Beweis stellt, dass er wohl der beste, noch lebende Metal-Sänger ist. 'Weather The Storm' und 'Renewed Flame' halten dieses schwindelerregende Niveau locker, bevor das fast zehnminütige 'Last Rites' ein perfektes Album beendet.
Alex Fähnrich vergibt 10 von 10 Punkten