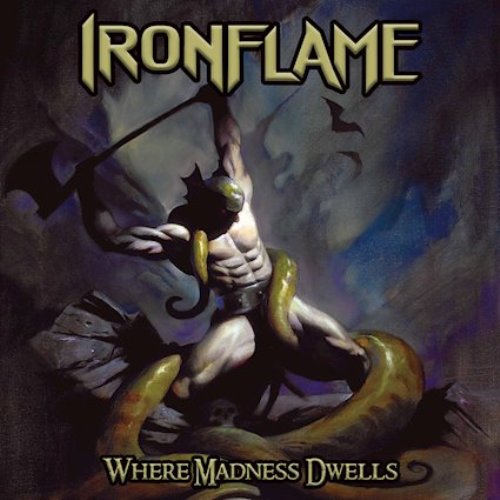 IRONFLAME
Titel: WHERE MADNESS DWELLS
Spieldauer: 39:15 Minuten
VÖ: 1. Juli 2022
Mit der amerikanischen Kapelle IRONFLAME haben High Roller ein heißes Eisen im traditionsmetallischen Feuer.
Wobei Kapelle hier wohl zu hoch gegriffen ist, denn IRONFLAME bestehen lediglich aus dem amerikanischen Mucker Andrew D'Cagna, der auch noch bei Brimstone und Icarus Witch tätig ist, beziehungsweise war.
Ähnlich wie sein Bruder im Geiste Mister Black kennt Andrew keinen Stillstand und haut mit IRONFLAME sein viertes Album in sechs Jahren heraus.
Und das knallt richtig gut aus den Speakern.
Geile Songs wie der klassische Mid Tempo Banger 'Everlasting Fire' zum Einstieg mit seinen hymnischen Vocals, das schnelle 'Under The Spell'und das zwischen Mid Tempo und schnelleren Passagen wechselnde 'Kingdom Of Lies' als Eröffnungs-Triple hintereinander ergeben einen gelungenen Einstieg in den Dreher.
Und auch Tracks wie das schnelle 'Ready To Strike' – hohoho..ready to strike; sehr cool -, das nach melodischen Einstieg eher epische 'A Curse Upon Mankind', ebenfalls mit schönem hohoho Chorus und das abschließende, stampfende 'Where Madness Dwells' lassen die Fäuste nach oben gehen.
Ähnlichkeiten zu Maiden sind instrumentalistisch und vokalistisch sicher nicht ganz unbeabsichtigt, passen aber enorm gut zur Mucke.
K.I.T. und HOA Jünger sollten sich IRONFLAME schleunigst auf dem Einkaufszettel notieren…ich höre mir den Dreher jedenfalls noch mal an….
Ludwig Lücker vergibt 9 von 10 Punkten