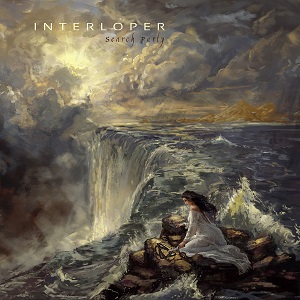 INTERLOPER
Titel: SEARCH PARTY
Spieldauer: 54:02 Minuten
Das US-amerikanische Trio besteht aus Sänger und Gitarrist Andrew Virrueta und den beiden ehemaligen Rings Of Saturn-Mitgliedern Aaron Stechauner (Drums) Miles Dimitri Baker (ebenfalls Gitarre). Von deren Tech-Death/Deathcore-Sound sind INTERLOPER allerdings ein gutes Stück weit entfernt. Ich würde ihren Stil wahlweise als harten, modernen Progressive oder technisch anspruchsvollen, melodisch-progressiven Metalcore bezeichnen. Wie die Bandbesetzung schon zeigt, wird dabei entgegen der landläufigen Meinung "wir brauchen Bass" auf einen Tieftöner verzichtet, was zu einem hellen, klaren Sound führt, diesen aber auch einer musikalischen Facette und etwas Tiefgang beraubt.
Über den frickeligen, harten Riffs, den wechselnden Rhythmen und teilweise dominanten Synthie-/Piano-Klängen thront zumeist der sonore, zuweilen aber auch etwas eintönige Klargesang des Fronters, der ab und an durch aggressive Vocals und auch Growls abgelöst wird. Aber so recht will mich das Ganze nicht wirklich gefangen nehmen und INTERLOPER gelingt es höchst selten, mich gefühlsmäßig so richtig abzuholen. Zu gleichförmig und austauschbar erscheinen mir die einzelnen Tracks, zu berechnet die Kompositionen und zu clean die Produktion.
Als trotzdem gelungene Anspieltipps mögen neben dem Titelsong das hymnische 'Dreamlands' mit seinem grandiosen Chorus und seinem packenden Solo sowie das heftige 'Idle Years' dienen. Bezeichnend, dass mein persönliches Highlight der Scheibe zum einen stilistisch völlig anders gelagert und zum anderen kein eigener Song der Gruppe ist. Das abschließende Duran Duran-Cover 'Rio' könnte mit seinen üppigen Synthies und umfangreichen Classic-Rock-Anleihen jedenfalls auch von The Night Flight Orchestra stammen.
Michael Gaspar vergibt 7 von 10 Punkten