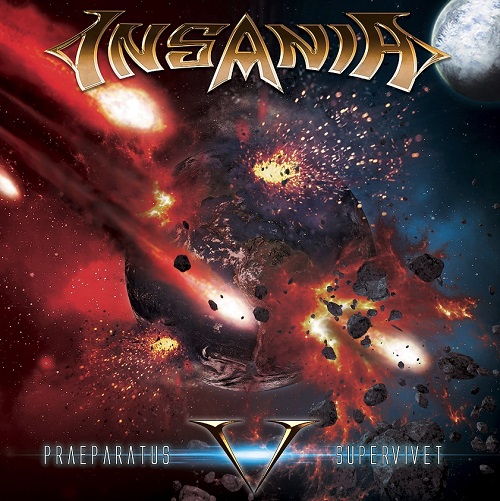 INSANIA
Titel: V (PRAEPARATUS SUPERVIVET)
Spieldauer: 64:02 Minuten
Die schwedische Powermetalfraktion INSANIA meldet sich nach vierzehn Jahren Pause mit ihrem fünften Longplayer "V (Praeparatus Supervivet)" zurück. Der Silberling bietet schnellen, klassischen europäischen Powermetallstoff mit Double-Bass, großartigen Hooks und packenden Soli.
Mit dem Doppelpack aus Titelsong und dem folgenden 'Solur' geht es direkt fulminant los und beide Songs sind die perfekten Beispiele für derartige, pfeilschnelle Power-Metal-Kracher mit zündenden Refrains.
Für Abwechslung sorgen im Folgenden zum einen dynamische Tracks wie das langsam beginnende 'My Revelation' und das mit sanften Pianoklängen eingeleitete 'Like A Rising Star', welche sich beide im Folgenden zu ebenso flotten, eingängigen Hymnen steigern wie ihre Vorgänger.
Zum anderen gibt es einige eher hymnisch-majestätisch geprägte, beinahe schleppende Stücke wie das grandiose 'Prometheus Rise' und das ebenfalls gemäßigte 'Blood, Tears And Agony'. Mit dem fantastischen Dreierpack aus der Auskopplung 'Entering Paradise', dem fulminanten 'Power Of The Dragonborn' und dem abschließenden, siebeneinhalbminütigen Megatrack 'The Last Hymn Of Life' gelingt dem skandinavischen Sextett zudem ein grandioser Abschluss.
Vermeintlich mangelnde Eigenständigkeit oder Originalität sind mir im Fall von "V" völlig schnuppe, wenn denn eine so geile Scheibe mit so vielen mitreißenden Songs dabei rumkommt wie hier. Fans von rasend schnellem Powermetal á la Hammerfall oder Rhapsody sollten hier unbedingt am besten gleich mehrere Ohren riskieren.
Michael Gaspar vergibt 8,5 von 10 Punkten