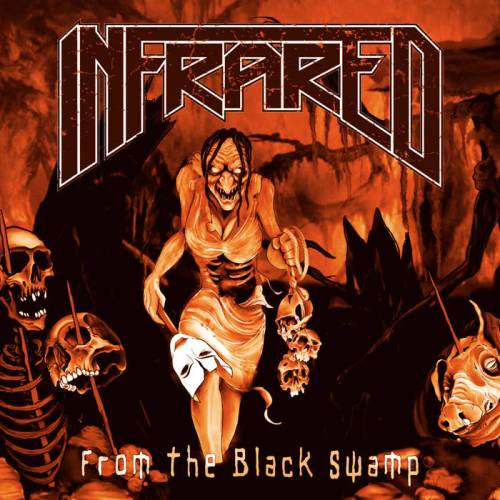 INFRARED
Titel: FROM THE BLACK SWAMP
Label: INFRAMETAL RECORDS
Spieldauer: 60:07 Minuten
Thrash aus Kanada ist eigentlich fast immer ein gewisses Qualitätsmerkmal und dies bewahrheitet sich auch bei der Band aus Ottawa namens INFRARED. Das Quartett gründete sich bereits im Jahre 1985, brachte es aber lediglich auf ein Demo, bevor es sich 1990 auflöste.
Nach der Reunion im Jahr 2014 war man dann produktiver und veröffentlicht mit "From The Black Swamp" bereits den dritten Longplayer. Die Kanadier mögen ihren Thrash Metal riff-betont, ohne viel Schnick-Schnack, direkt auf die Rübe, variieren dabei aber durchaus ihre Tempi, um nicht zu ermüdend zu wirken.
So ballern die Kanadier Tracks wie das nach einem schleppenden Beginn ordentlich Fahrt aufnehmende 'Tribal Junction', das auch einen coolen Mid Tempo Groove Part enthält, den Mid-Tempo Brecher 'Left Lane FvCk', das mit einem Drum Groove beginnende, hymnisch, stampfende 'Evil Ascent' und das rhythmische, aber doch auch teils hymnische 'Blood & Sweat' fett aus den Boxen.
Gelegentlich könnten INFRARED noch ein bisschen Melodien und Hooks hinzu geben, um sich tiefer ins Langzeitgedächtnis zu fräsen, aber alles in allem ist "From The Black Swamp" eine gutklassige Scheibe geworden, bei der man ordentlich bangen kann….
Ludwig Lücker vergibt 7,5 von 10 Punkten