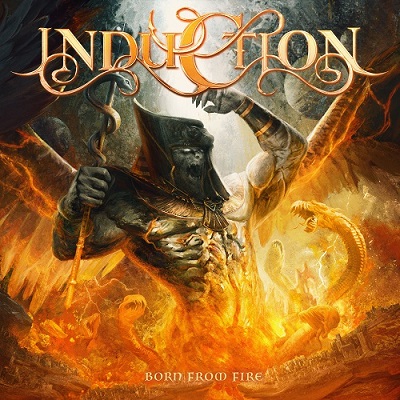 INDUCTION
Titel: BORN FROM FIRE
Label: ATOMIC FIRE RECORDS
Spieldauer: 57:42 Minuten
VÖ: 25. November 2022
INDUCTION laden den Hörer zur "melodischen Reise durch das Power-Metal-Universum, die allerhand Geschichten von Verrat, Leidenschaft, verlorener Liebe, Neuanfängen und der Hoffnung auf eine strahlende Zukunft" ein und präsentieren ihr Zweitwerk "Born From Fire".
Die junge Truppe um Gitarristen und Mastermind Tim Kanoa Hansen und den ehemaligen Rage-Klampfer Marcos Rodriguez bietet progressiv angehauchte Symphonic Metal Hymnen, beinahe allesamt eingängige Ohrwürmer mit kraftvollen Vocals und enormer Synthiepower.
Die Stücke der internationalen Symphonic Progressive Metaller offenbaren enorme Lebenslust und Spielfreude genauso wie ein Händchen für virtuoses Songwriting und bombastische Arrangements mit harten Riffs, schicken Melodien und mitreißenden Soli.
Songs wie der stürmische Opener oder das grandios-packende `Scorched´ mit seinem fantastischen Chorus machen genauso viel Spaß wie die Vorabauskopplungen `Go To Hell´, `Embers´ und `Queen Of Light´ und überzeugen immer wieder mit Refrains zum Mitsingen und anderen Mitgehparts.
"Born From Fire´ ist eine bemerkenswerte, homogene, abwechslungsreiche Platte und INDUCTION womöglich die Zukunft des modernen, vielseitigen, melodischen Power Metals.
Michael Gaspar vergibt 8,5 von 10 Punkten