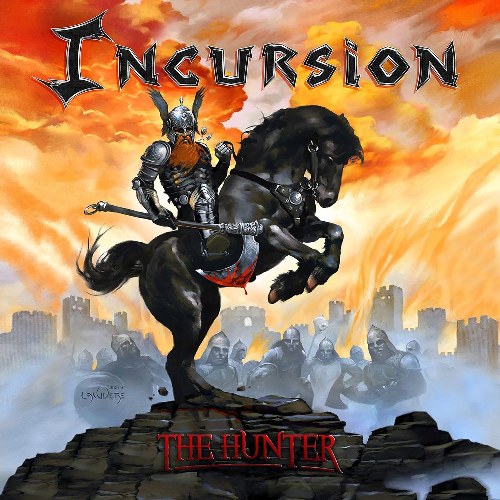 INCURSION
Titel: THE HUNTER EP
Spieldauer: 22:14 Minuten
Bei der Florida Posse namens INCURSION sollte niemand auf die Idee kommen, diese als Bestandteil der New Wave of Traditional Heavy Metal zu bezeichnen. Die Ursprünge von INCURSION gehen nämlich noch auf das Jahr 1982 zurück und immerhin drei Fünftel des aktuellen Line Ups waren auch damals schon Bestandteil der Band.
Die EP "The Hunter" wurde schon letztes Jahr eingetütet und wird nun von No Remorse als Vinyl heraus gebracht. An der Qualität der Mucke ändert dies nichts; klassischer Metal mit der nötigen Portion Melodie aber auch Härte bei der Gitarrenarbeit und ein ausgezeichneter Fronter bestimmen die vier Songs der EP, hinzu kommen ein Intro und ein Outro. Das abwechslungsreiche, zwischen Stakkato Riffing, treibenden Up Tempo und lässigen Mid Tempo Riffing wechselnde 'Warrior Of Destruction' eröffnet den Reigen. 'Guiding Faith' beginnt mit nem klassischen Hohoho Chor und das eher schleppende Tempo wird von einem prägnanten Riff beherrscht, bevor bei dem mit hymnischen, melodischen Vocals versehenen 'Fade To Black' – darf ein Song ohne Cliff so heissen? – das Tempo wieder angezogen wird. Nach melodischen Beginn ist der Up Tempo Brecher 'Kingdom Of The Dead' dann leider auch schon der letzte "richtige" Track des Albums.
Geile Scheibe, da hätte es auch gerne etwas mehr an Songs sein dürfen. Wir wollen mal hoffen, dass es bis zum nächsten Output nicht wieder so lange dauert, wie beim letzten Male als zwischen dem ersten und einzigen Demo von 1984 und der jetzigen EP sechsunddreissig Jahre lagen…..bis dahin gilt für Trad-Metaller die Devise: Buy or Die!
Ludwig Lücker vergibt 9 von 10 Punkten