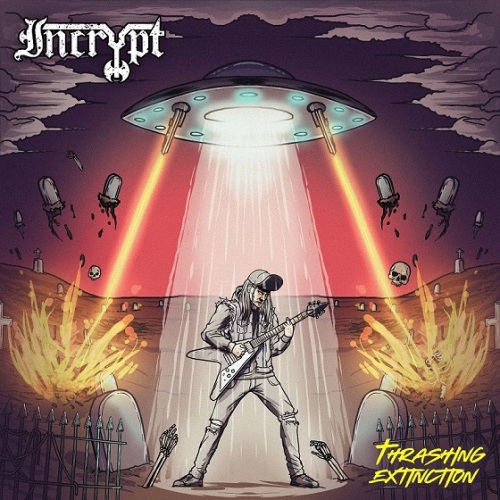 INCRYPT
Titel: THRASHING EXTINCTIONS
Spieldauer: 38:40 Minuten
VÖ: 25. Februar 2022
INCRYPT aus Melbourne bieten auf ihrem vierten Album melodischen Thrash Metal.
Die Truppe erinnert mich dabei ein wenig an die "melodische" Zwischenphase von Kreator, welche diese nach weniger werdendem Erfolg schnell wieder verließ, ohne diese allerdings zu kopieren.
Musikalisch-handwerklich jedenfalls kann man ihnen nix vorwerfen, ausser einem, ich sage mal kindisch gezeichneten, Artwork, was nicht so knackig ist, der musikalischen Grundlage aber auch nicht schadet. Und das ist schließlich das Wichtigste.
Knackig sind allerdings Songs wie das stampfende 'Pushed Beyond Breaking' das zum Ende ordentlich Fahrt aufnimmt, das schnelle 'Open This Pit', das nach einem epischen Einstieg schleppende beginnende und sich dann tempomäßig steigernde 'Stars Of The Southern Land', das rockig beginnende und dann treibende 'Chaotic Freedom Remians' und der straighte Thrasher 'Declaration'.
Die Jungs verbinden in Sound und Mucke klassische und moderne Thrash Elemente. Der letzte Kick zur Spitze fehlt zwar noch, gute Thrash Kost gibt es aber dennoch allemal.
Ludwig Lücker vergibt 7 von 10 Punkten