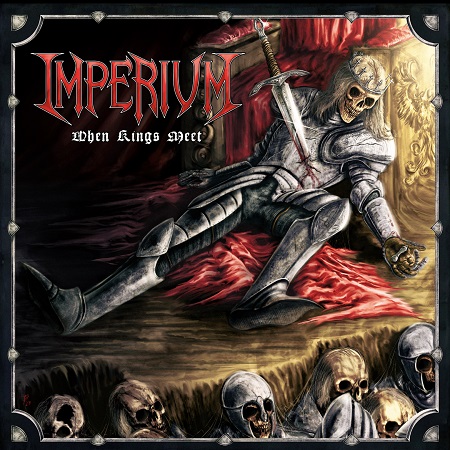 IMPERIUM
Titel: WHEN KINGS MEET (EP)
Label: INDEPENDENT RELEASE
Spieldauer: 31:40 Minuten
VÖ: 23. September 2023
"At dawn two armies assembled upon a summer meadow, green grass dusted in the pink, white and yellow of wild flowers. They stood proudly arrayed in gleaming, burnished steel and their brightly coloured pennants snapped bravely in the breeze. At dusk a handful of broken men staggered through a sucking morass of mud and blood, stumbling over the silent dead and the screaming dying, hacking desperately at each other, all sense of cause or reason lost in absolute exhaustion. The carrion crows feasted around their hideous parodies of chivalric combat, hard beaks puncturing soft, blind eyes. As the first stars appeared in the darkening sky just two men stood amidst the carnage, chests heaving beneath battered metal plates, sweat cooling beneath the crowns upon their brows. They raised their gore-stained swords in silence – too spent for battle cries or noble soliloquies – and flung themselves, each at the other, the final bloody tableaux, the inevitable end When Kings Meet…"
So schön, passend und bildhaft leitet das britische Metal Quintett IMPERIUM im Infotext seiner EP "When Kings Meet" in den thematischen Zusammenhang ein. Der leider momentan vertragslose Fünfer veröffentlicht seinen dritten Kurzplayer seit Bandgründung im Jahre 2015.
Grundlage und Essenz des IMPERIUM Sounds ist der gute alte klassische, britische Heavy Metal, der jedoch mit der monströsen Riff- und Rhythmuspower des Groove und dem Tempo und der Aggression des Thrash Metal angereichert wird.
Dazu kommt in meinen Ohren immer auch ein Schuss Hardcore Energie und Dynamik zum Einsatz, vor allem durch mehrstimmige Shouts, so dass ein räudiger Hybrid aus Metallica, Anthrax, Armored Saint und Biohazard entsteht.
Dieser manifestiert sich in wuchtigen, abwechslungsreichen Tracks wie dem Titelsong und dem anschließenden `Desperate Screams´ mit seinem grandiosen Chorus. Das groovig-wilde `Capable Of Murder´ könnte statt von mittelalterlichen Schlachten auch gut und gerne vom blutigen Bandenkrieg in der Bronx oder mit dem Medellin-Kartell berichten, bevor mit `Iron Thunder´ das eingängigste und am meisten melodische Stück das Songquartett beschließt.
Auf die vier Studiotracks folgen die beiden Liveaufnahmen von `Capable Of Murder´ und des Titeltracks beim letztjährigen Bloodstock Open Air. Ich hoffe, dass es an der Qualität der mp3-Dateien liegt, aber diese sind so leise, dumpf und rumpelig und die Soundqualität so mies, dass eine Bewertung quasi unmöglich ist.
Fazit: spannender, energiegeladener, abwechslungsreicher Mix mit vier starken Songs, da muss doch an der Labelfront etwas möglich sein, wenn dieses Niveau in Albumlänge gehalten werden kann.
Michael Gaspar vergibt 6,5 von 10 Punkten