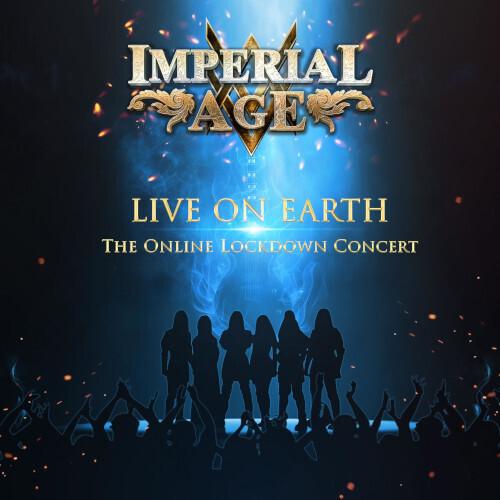 IMPERIAL AGE
Titel: LIVE ON EARTH
IMPERIAL AGE sind, nach eigenen Angaben Russlands erfolgreichste Symphonic Metal Band, die alles in Eigenregie betreibt. Was sag ich also zu einer DVD von einer Band, die ich nicht kenne und einem Genre, welches nicht mein bevorzugtes ist? – Sachlich bleiben.
"Live On Earth – The Online Lockdown Concert" wurde, wie der Name schon sagt, als Online Konzert während eines Lock-Downs aufgenommen. Den Stream verfolgten dabei beachtliche 38.000 Zuschauer.
Technisch ist auf der DVD alles auf professionellem Niveau. "Live On Earth" wurde mit fünf Videokameras und 32-Kanal-Audio-Multitrack aufgenommen. Sound und Bild sind entsprechend ansprechend.
Musikalisch bieten IMPERIAL AGE, Drama-lastigen Metal, der von zeitweise mehrstimmigem männlichem und weiblichen Gesang geprägt ist und reichlich operettenhaft bis heroisch aus den Boxen schallt. Insgesamt zwanzig Stücke plus Q&A und ein "Making of" als Bonus sind enthalten. Respekt vor so viel Eigeninitiative.
Live On Earth kann über die offizielle Homepage der Band bestellt werden und ist zudem auf allen digitalen Plattformen, inklusive Spotify, erhältlich:
Live On Earth: The Online Lockdown Tracklist
Turn The Sun Off!
The Escape
Vanaheim
Domini Canes
Warrior Race
Wings Of Your Heart
Love Eternal
In The Center Of The Earth
Life Eternal
The Castaways
Islands In Time
Battle Heart
Aryavarta
Death Guard
And I Shall Find My Home
The Awakening
The Monastery
Anthem Of Valour
The Legacy Of Atlantis
The Making Of Live On Earth (Bonus)
Wer sich einen Eindruck verschaffen will, kann das zum Beispiel hier tun.
Sven Bernhardt vergibt keine Bewertung