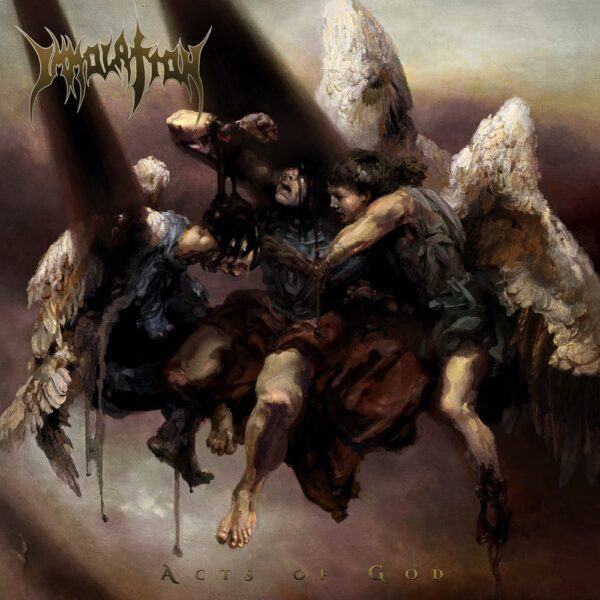 IMMOLATION
Titel: ACTS OF GOD
Label: NUCLEAR BLAST RECORDS
Spieldauer: 52:15 Minuten
Ross Dolan und Robert Vigna sind außer Frage die Kurslenker und Gebieter über das New York Death Metal Flaggschiff IMMOLATION. Meines Erachtens wurde der Ostküsten Todesbleilegende nie die angemessene Ehre zuteil, die sie eigentlich verdient hätten. Aber stoisch wie ein bleierner Esel ziehen IMMOLATION nunmehr seit über 30 Jahren ihr Ding durch und offerieren uns mit "Acts of God" ihr elftes Album.
Und um vielleicht alle Zweifler abzuholen: Es ist ein starkes Album geworden. IMMOLATION haben natürlich in den letzen 30 Jahren ihren Sound etablieren können, verfeinern und ausarbeiten können. Natürlich darf man hier keine Wunderwerke erwarten. Dennoch ist den New Yorker Urgesteinen etwas gelungen, was ihren Sound in die Gegenwart transportiert. IMMOLATION bestechen durch die Mächtigkeit ihrer Riffs und den irren Wendungen mit vertrackten Rhythmen. Mit "Acts of God" ist dies aber sehr gut gelungen. Die düsteren und meist vertrackten Riffs, die vollen Basslines und der ausdrucksstarke und prägnante Gesang von Ross Dolan konnten neben dem treibenden Drumming perfekt herausgearbeitet werden. Wenn ich was zu kritisieren hätte, wäre das der ein oder andere Track weniger die Scheibe vielleicht etwas griffiger gemacht hätte. Das ist mir aber nun zu spekulativ und daher irrelevant.
Ein teilweise äußerst düsteres und gespenstisches Album der Recken des NYDM. Dies ist auch dem großartigen Gesang von Ross Dolan zu verdanken. Eine großartige Sammlung besten IMMOLATION Materials mit einer druckvollen und dichten Produktion. Dazu eine gewohnt starkes Artwork aus der Feder von Eliran Kantor (u.a. Heaven Shall Burn, Halloween, Hatebreed). Sehr zu empfehlen!!
Ingo Holzhäuser vergibt 9 von 10 Punkten