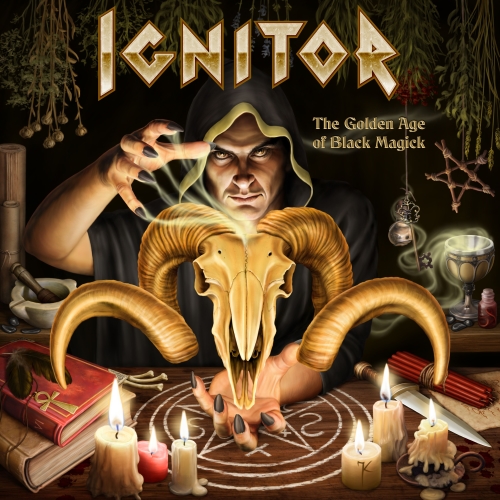 IGNITOR
Titel: THE GOLDEN AGE OF BLACK MAGICK
Label: METAL ON METAL REC.
Spieldauer: 35:16 Minuten
Texas Metal? Check! Sangeslegende Jason McMaster? Check! Siebtes Album? Ch… Halt! Warte, warum habe ich die denn nicht auf dem Schirm? Gut, Gesangs*herzensgute Frau* McMasters sämtliche gefühlt drölfzigmillionen Projekte alle zu überblicken ist sicherlich ein Ding der Unmöglichkeit, aber Metal aus Texas gehört eigentlich zu meinen Steckenpferden. Und da liegt wahrscheinlich der Hund begraben. Texanisch klingt bei Ignitor nämlich so gut wie nichts. Die klassisch britische Spielart ist hier angesagt. Brexas-Metal sozusagen.
So springt einem schon beim tollen Opener 'Secrets Of The Ram' die eiserne Jungfrau mit dem nackten Arsch ins Gesicht, während das folgende 'Countess Apollyon' einer der besten Judas Priest-Songs seit Jahren ist, der nicht von Priest selbst kommt. Auch Satan und Tokyo Blade kommen einem beim Hören immer wieder in den Sinn. Nicht alle Kompositionen sind hochklassig, gerade wenn es ins Midtempo geht, wirkt manches Riff bieder. Aber dann ist da ja immer wieder der oben erwähnte Jason McMaster, der neben den Klasse-Soli und Melodylines von Stuart Laurence, mit seiner Ausnahmestimme in diesen Momenten den Rettungsanker darstellt.
Und so kann man guten Gewissens feststellen, dass keiner der 8 präsentierten Songs als Totalausfall zu werten ist. Ausreißer nach oben gibt es aber neben den genannten Tracks aber schon noch. Die wieder sehr maidenesken 'Hell Shall Be Your Home' mit überragender Gesangslinie und 'Steel Flesh Bone', von toller Gitarrenarbeit geprägt, seien hier stellvertretend genannt, und beim epischen Ausklang 'Stoned At The Acropolis' kommt einem sogar bei der Basslinie eine Hotel California-Assoziation in den Kopf.
Da auch Cover-Artwork und die Produktion mit einem sehr warmen, offenen Sound auf absolut professionellem Niveau agieren, muss man 'The Golden Age Of Black Magick' jedem Freund traditionellen, britischen Metals auf die Einkaufsliste setzen. Und ich muss mich jetzt mal gepflegt um den Ignitor-Backkatalog kümmern.
Dirk Eckhard vergibt 8,5 von 10 Punkten