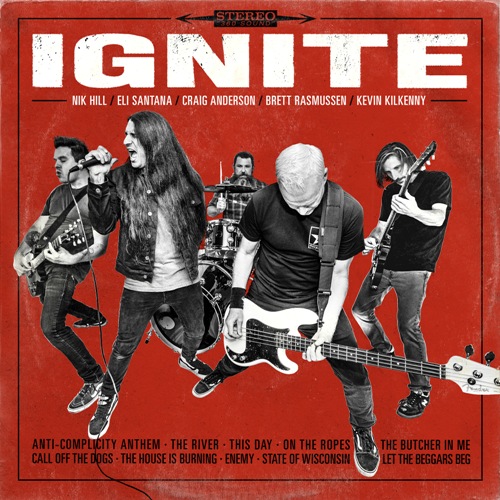 Spieldauer: 35:00 Minuten
VÖ: 25. März 2022
Man kann natürlich als Fan der Band Ex Fronter Zoltan Teglas hinterher trauern, da er fünfundzwanzig Jahre den Sound von IGNITE prägte.
Man kann aber auch den neuen Mann Eli Santana einfach akzeptieren und gut finden, denn Eli passt mit seiner Stimmlage gut ins Gesamtgefüge von IGNITE.
Und ihrem musikalischen Stil sind die Kalifornier größtenteils treu geblieben. Hier regiert Mucke an der Grenze zwischen Punk und Hardcore, immer mit ordentlich Melodie und Schmackes intoniert.
Allerdings ist der Gesamtsound etwas düsterer gehalten, was nicht am neuen Mann am Mikro liegt, sondern eventuell eher an den gesamten globalen Umständen derzeit.
Anyway, Tracks wie der knackige Opener 'Anti-Complicity Anthem', der melodische Up Tempo Punk Rocker 'On The Ropes', der Up Tempo Track 'Call Of The Dogs' und das von dem pumpende Bass eingeleitete, zwischen Speed und Mid Tempo wechselnde 'Enemy' mit seinen Gang Shouts sind geile Punk/Hardcore Tracks.
Zoli Puristen werden hier vielleicht mit der Nase rümpfen, aber meiner Meinung nach haben IGNITE dazu einfach ein zu gutes Album raus gehauen.
Ludwig Lücker vergibt 8 von 10 Punkten