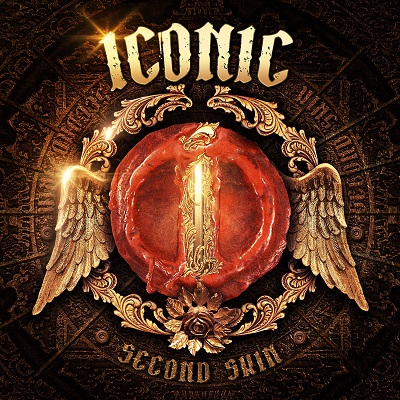 ICONIC
Titel: SECOND SKIN
Spieldauer: 47:46 Minuten
VÖ: 17. Juni 2022
Gäbe es den Begriff "Supergroup" noch nicht, für die neuen AOR/Hard/Melodic Rocker ICONIC hätte man ihn wohl erfinden müssen. Die beiden Masterminds Gitarrist/Sänger Michael Sweet (Stryper) und Gitarrist Joel Hoekstra (Whitesnake, Trans-Siberian Orchestra) übernahmen einen Großteil des Songwritings. Alessandro Del Vecchio co-produzierte und steuerte Gesangsmelodien und Keyboards bei.
Den Bass übernimmt kein Geringerer als Marco Mendoza (Thin Lizzy, Black Star Riders, The Dead Daisies, Journey), das Schlagzeug wird von Tommy Aldridge (Whitesnake) bearbeitet und am Mikro steht Inglorious-Frontmann Nathan James seinen Mann.
Gutes Songwriting, zwei äußerst begabte Gitarristen, eine erfahrene, tighte Rhythmussektion und ein grandioser Sänger, der zudem teilweise Unterstützung/Mitwirkung von M. Sweet erhält, sind das Erfolgsrezept für kurzweiligen Melodic Sound einer Gruppe, die ihre PS über die gut 45 Minuten in beeindruckender Weise auf die Straße bringt.
Davon zeugen unter anderem die drei Vorabauskopplungen `Run (As Fast As You Can)´, das eher ruhig-balladeske `All I Need´ und das kraftvolle `Nowhere To Run´. Weitere Anspieltipps: der packende Titelsong, das treibende `This Way´ und das hymnische `It Ain´t Over´ mit gradiosem Gitarrensolo.
Unter dem Strich eine richtig gute, unterhaltsame Scheibe einer Band, die ihrem Namen alle Ehre macht und ihrem Anspruch technisch, musikalisch und inhaltlich gerecht wird.
Michael Gaspar vergibt 8 von 10 Punkten