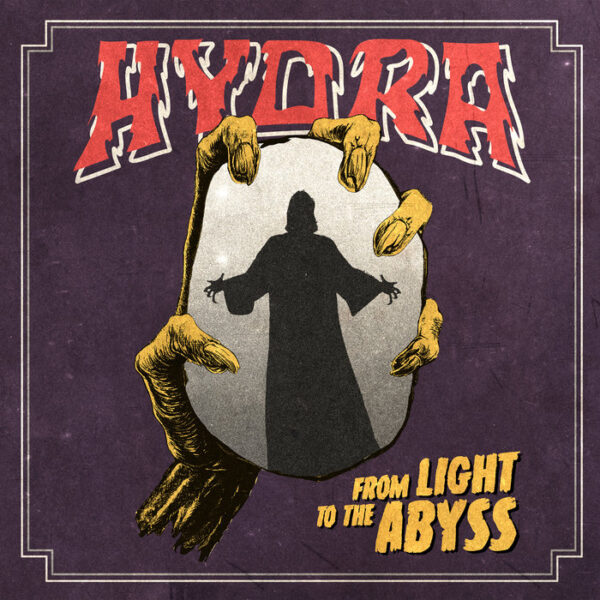 HYDRA
Titel: FROM LIGHT TO THE ABYSS
Label: PIRANHA MUSIC / POLEN-IMPORT
Spieldauer: 36:55 Minuten
Es scheint, als würden Orchid in diesem Leben nicht mehr aus den Puschen kommen, um Sabbath-Adepten mit ihren Kompositionen eine Ersatzdroge zu erschaffen. Diese greifen dann ab sofort zu HYDRA. Obacht: dies ist ein Befehl! Die Polen haben nicht ganz die Leichtfüßigkeit oder gar technische Finesse der Kalifornier, setzen dafür mehr auf Groove und dessen Zusammenspiel mit ozzyesken Vocals, wobei die sich die Bürde des Gesangs teilenden Herren Dabek (sonst noch Gitarre) und Vanat (sonst noch Bass) reihenweise feine Hooks aus der Hirnrinde schwitzen (das mit reichlich Sexappeal ausgestattete "No One Loves Like Satan" oder die ergreifend entwickelten Melodien in "Magical Mind").
Man hört der Band zu keinem Zeitpunkt an, dass sie erst letztes Jahr gegründet wurde; dafür klingen die Stücke einfach zu selbstsicher und auch dynamisch abwechslungsreich. Ein so cooles old school-Doomriff wie jenes von "Creatures Of The Woods" habe ich schon lange nicht mehr gehört (und dann dieses hintergründig entwickelte Monster-Gitarrenhook in "Magical Mind" – WOW!), überhaupt ist das gesamte Album extrem kurzweilig und abwechslungsreich: alle fünf Songs sind Volltreffer, wobei HYDRA Meister darin sind, mit simplen Mitteln maximale Effekte zu erzielen.
Der von der Band selbst als selling point in den Ring geworfene Stoner-Anteil hält sich zum Glück in engen Grenzen, vielmehr beglückt man Fans gediegener Doom-Kunst à la Orodruin, World Below oder eben Orchid. HYDRA stecken gehyptes Zeug wie Crypt Sermon somit locker in die Tasche und wuchten das beste True Doom-Album seit Fvneral Fvkk in die Szene. Klarer Fall fürs Hammer Of Doom, falls es irgendwann mal wieder Livegigs gibt… Überraschung des Monats und (nicht nur) für Doomheads ein Muss! Dr Doom ist glücklich, denn das Ding gibt es für einen extrem schmalen Kurs via https://hydra666.bandcamp.com/ Support the underground that is worth supporting!
Patrick Müller vergibt 9 von 10 Punkten