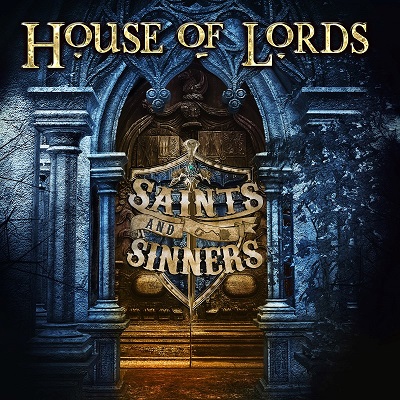 HOUSE OF LORDS
Titel: SAINTS AND SINNERS
Spieldauer: 51:24 Minuten
VÖ: 16. September 2022
Neben vielen mehr oder weniger gelungenen Projekten mit teilweise recht geringer Halbwertzeit und einigen überraschenden, musikalischen Perlen haben Frontiers Records ebenfalls einige altgediente und routinierte Urgesteine des Hardrock unter Vertrag.
Zu diesen gehören auch die US AOR/Melodic/Classic Rocker HOUSE OF LORDS, welche mit "Saints And Sinners" ihr elftes Studioalbum seit Bandgründung Ende der 80er vorlegen. Darauf sind neben Sänger, Mastermind und Gründungsmitglied James Christian und dem langgedienten Gitarristen Jimi Bell die beiden neuen Mitstreiter, Keyboarder Mark Mangold und Drummer Johan Koleberg zu hören.
Die elf neuen Tracks bieten klassischen, melodischen Hardrock mit AOR-Feeling und einem brillant aufgelegten, kraftvollen Sänger. Dominante Hammonds/Synthies setzen zudem ihre eigenen Akzente und sorgen für Atmosphäre. Packende Melodien, Gitarrensoli sowie Hooks und Refrains, die einem nicht mehr aus dem Kopf gehen wollen, dürfen natürlich auch nicht fehlen.
Der Opener und Titelsong ist gleich ein Ohrwurmgarant mit großem Refrain, das folgende `House Of The Lord´ strebt über den sanften Beginn und gediegene Gitarren- und Keyboardbögen auf den ebenso hymnischen Chorus zu.
Egal ob flotte Rocker wie der mitreißende `Road Warrior´ und das grandiose `Razzle Dazzle´, düster-mystisch angehaucht wie bei der `Mistress Of The Dark´ oder episch-bombastisch wie bei `Angels Fallen´, alle Spielarten des AOR/Rocks, die hier geboten werden, erfreuen den Hörer und stehen dem Vierer bestens zu Gesicht.
Und mit `Avalanche´ hat man zudem eine der intensivsten und emotionalsten Balladen der letzten Monate am Start. Selten ist etwas so Beeindruckendes und gleichzeitig Gefährliches so wunderschön besungen worden.
Fazit: starke, frische, abwechslungsreiche und flotte Hardrock/AOR-Scheibe, nicht nur für Fans von Whitesnake, Deep Purple und Van Halen!
Michael Gaspar vergibt 8,5 von 10 Punkten