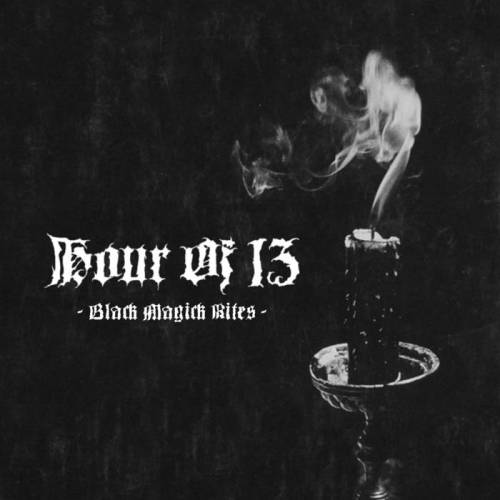 HOUR OF 13
Titel: BLACK MAGIC RITES
Spieldauer: 43:41 Minuten
"Black Magic Rites" ist ein Re-Release des vierten Longplayers der amerikanischen Band HOUR OF 13. Dieser wurde bereits im letzten Jahr von der Band in Eigenregie veröffentlicht und wird nun via Shadow Kingdom Records einer breiteren Öffentlichkeit präsentiert.
Da stellt sich natürlich die Frage, ob sich dies lohnt. Nun, die Jungs zocken ziemlich rockigen Doom mit Einflüssen traditionellen Heavy Metals. Dies spricht nun selbst in der Metal Szene ein eher kleines, dafür aber umso fanatischeres Klientel an.
Dieses dürfte bei Tracks wie dem schleppenden, düsteren 'Return From The Grave', dem nach rockigen Beginn groovenden Doomer und dem schleppenden Doom Rocker 'Within The Pentagram' sofort in den langsamen Veitstanz verfallen. Die anderen vier Tracks hingegen sind eher unspektakulär, ein Rohrkrepierer befindet sich allerdings auch nicht wirklich  darunter.
HOUR OF 13 kredenzen hier zwar keinen zukünftigen Klassiker, für ordentlich doomige Unterhaltung allerdings ist gesorgt.
Ludwig Lücker vergibt 7,5 von 10 Punkten