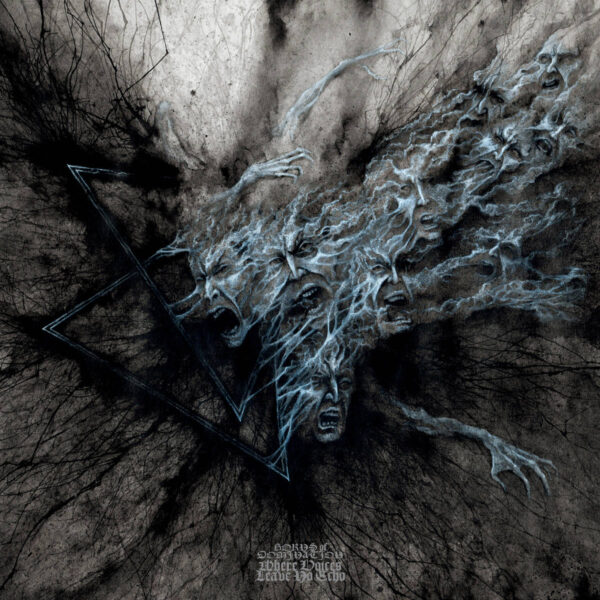 HORNS OF DOMINATION
Titel: WHERE VOICES LEAVE NO ECHO
Spieldauer: 35:34 Minuten
Aus  Mitgliedern solcher Underground-Geheimtipps wie Excoriate oder Venenum entstanden 2015 HORNS OF DOMINATION. Nun sind zwar sechs Jahre ins Land gegangen, ferner ein Zwei-Track-Demo aber soviel scheint das Trio nicht verkehrt gemacht zu haben, wird doch das Debütalbum "Where Voices leave no Echo" auf dem durchaus renommierten Label Sepulchral Voice Records veröffentlicht.
HORNS OF DOMINATION machen ihre Sache gut. Und da bleibt die spannende Frage, was denn ihre Sache überhaupt ist? Im Grunde eine doch recht verträgliche Form aus Black, Death und signifikanten Doom Zitaten. HORNS OF DOMINATION weben zudem atmosphärische Akustikparts mit ein und entschleunigen somit das dargebotene Material. Sie versuchen die 36 Minuten in der nötigen Art und Weise abwechslungsreich zu gestalten. Egal ob brutaler Prügelpart, Doom-Rezitativ oder akustisches Intermezzi: HORNS OF DOMINATION wissen um den gekonnten Einsatz entsprechender Stilmittel. Mir fehlen oftmals noch die Ausrufezeichen und prägnanten Passagen, um hier in die höchsten Regionen der Benotungsskala einzutauchen.
Und dennoch: HORNS OF DOMINATION sollte all jene Hörer interessieren, die Chapel of Disease, Morbus Chron oder Venenum verehren und noch eine Portion Schwärze vertragen. Gute Platte der Franken!
Ingo Holzhäuser vergibt 8 von 10 Punkten