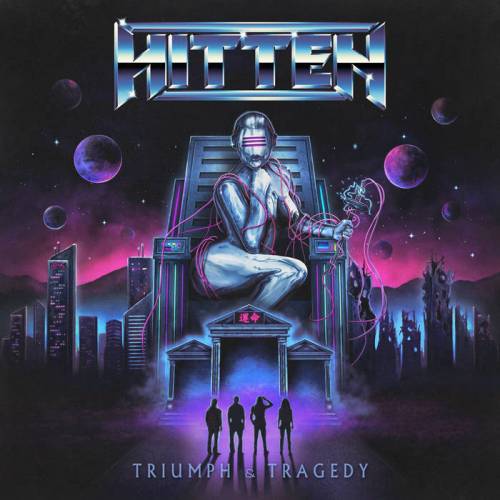 HITTEN
Titel: TRIUMPH & TRAGEDY
Spieldauer: 47:25 Minuten
Die spanischen Rocker von HITTEN haben ihre Laufbahn als reinrassige Metal Band begonnen, um dann ähnlich wie ihre Brüder im Geiste von Enforcer immer mehr Hard Rock Elemente in ihren Sound zu integrieren.
Auf dem aktuellen Album "Triumph & Tragedy" geht es meines Erachtens wieder einen Tacken härter zu. Dies mag vielleicht auch am neuen Schlagwerker liegen, der eher dem thrashigen Bereich entstammt……den Hitten allerdings nicht wirklich erreichen.
Dennoch gefallen HITTEN mir persönlich am besten, wenn sie Gas geben. Und das geschieht bei Tracks dem Up Tempo Opener 'Built To Rock', der feinsten High Energy Rock bietet, dem fett stampfenden, aber dennoch enorm melodischen 'Meant To Be Mean', dem im angezogenen Tempo dargebotenen Rocker 'Ride Out The Storm', dem melodischen, zum Ende anziehenden 'Light Beyond The Darkness' und dem abschließenden, abwechslungsreichen, elf minütigen Long Track 'Triumph & Tragedy'.
Zwar gibt es auch einige wenige schnulzige, balladeske Momente, diese sind aber glücklicherweise in der Unterzahl, so dass die Mischung diesmal gut aufgeht.
Ludwig Lücker vergibt 8 von 10 Punkten