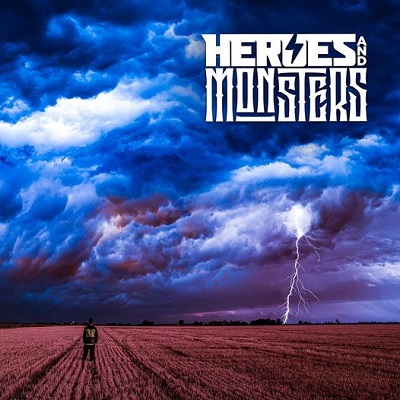 HEROES AND MONSTERS
Titel: HEROES AND MONSTERS
Spieldauer: 39:38 Minuten
VÖ: 20. Januar 2023
HEROES AND MONSTERS sind ein neues Powertrio bestehend aus den Vollblutmusikern und Freunden Bassist/Sänger Todd Kerns (Slash featuring Myles Kennedy and the Conspirators, The Age Of Electric), Gitarrist Stef Burns (Y&T, Alice Cooper) sowie Evanescence-Drummer Will Hunt.
Die zehn Stücke des selbstbetitelten Debütalbums sprechen für sich und bieten harten, eingängigen, "in-your-face" Rock-n-Roll zwischen Tradition und Moderne, zwischen klassischem Hardrock und Anleihen aus der aktuellen Rockszene. Oder wie es der Infotext so schön und zutreffend formuliert: "A best of both worlds scenario, if you will".
Man kann den zehn Stücken Einflüsse des klassischen Rock/Metal genauso heraushören, wie man manches Mal an Green Day oder Alter Bridge oder die diversen Betätigungsfelder der drei Beteiligten denken könnte.
Aber die Hauptsache ist, dass dabei so frische und unterhaltsame Songs wie der energetische Opener `Locked And Loaded´ und das ebenfalls vorab ausgekoppelte, treibende `Raw Power´ herauskommen. Auch das kurzweilige `Let's Ride It´ und das deutliche AC/DC Vibes versprühende `Break Me (I'm Yours)´ machen einfach Spaß.
Das erst nachdenklich-eindringliche, dann wuchtige `Angels Never Sleep´ sorgt für Tiefgang, während andere Stücke Classic Rock Referenzen einerseits und Prog Rock Anleihen andererseits offenbaren. Und obendrauf gibt es noch eine wirklich gute Coverversion des Sweet-Klassikers `Set Me Free´.
Obwohl nicht alle Songs ganz das hohe Niveau mitgehen, ist hier hinsichtlich Musik und Songwriting wirklich alles paletti, man hält ein packende Rockalbum, auf das man nicht alle Tage trifft in den Händen, und wird mit ein paar kleinen Längen über vierzig Minuten gut, kraftstrotzend und abwechslungsreich unterhalten.
Michael Gaspar vergibt 7,5 von 10 Punkten